619.435.7242
1100 Orange Avenue, Coronado CA 92118
Board of Directors Biographies
Jane Braun, President
Jane has been in the financial services industry for over 35 years.  She holds the Certified Financial Planner certification and a Master's Degree in financial planning and taxation from San Diego State University.  Presently Jane is earning a credential from Cal State Long Beach as a Certified Specialist in Planned Giving.
As a Wealth Manager with Manning Wealth Management, Jane works with families and individuals helping her clients address multi-generational planning issues and legacy goals.  Through her educational series Women, Wealth & Wisdom, Jane inspires women to take control of their financial futures. Jane is a Registered Representative and Investment Adviser Representative of Commonwealth Financial Network® and was previously employed by JP Morgan Chase as a senior advisor.
Jane has resided in Coronado for the past 20 years.  Her five young adult children, ranging in age from 21-31, have all matriculated through Coronado schools, where Jane continues to be heavily involved.  Jane serves as President Elect of San Diego Blood Bank and is a member of the San Diego Military Advisory Council, the Rotary Club of Coronado, the San Diego Planned Giving Partnership, and the Coronado Schools Foundation Planned Giving Committee.  She also serves on the executive council of San Diego's chapter of Elevate, a professional women's network. 
Art Wilcox, Vice President
Art Wilcox is a licensed real estate attorney with more than 40 years of practice.  Art received his Juris Doctor from the University of South Carolina School of Law and a BA from the Georgia Institute of Technology. In 2016 Mr. Wilcox was selected as one of San Diego Magazines top Real Estate Lawyers. Mr. Wilcox and his wife Dana are Coronado residents and live in a historic Palmer home.
Brad Gerbel, Treasurer
Brad Gerbel moved to Coronado in 1985 when he was 15 years old and graduated from Coronado High School.  He earned his Bachelor of Accountancy degree from the University of San Diego in 1992 and earned a Master of Science in Accountancy from San Diego State University in 1993.  After graduating from San Diego State University, he took a job with KPMG Peat Marwick in Long Beach, CA.  Brad lived and worked in Los Angeles County for two years, before returning to Coronado and working for Ernst & Young in San Diego.   He left E&Y to form my own accounting firm.
Brad joined his family's company, University Blanket & Flag, in 1999 and works in the office on Orange Avenue.  His family's company holds over 540 collegiate licenses and their flag products are sold in college bookstores across the United States.
His proudest accomplishment as a resident of Coronado was leading the effort last summer to oppose the proposed beach bike path, which was going to be built on Coronado's beautiful beach.
In his free time, he likes to hike and enjoy everything that Coronado has to offer.
Sara Wells, Secretary

As with many Coronadans, Sara traces her Coronado roots to her father's association with the US Navy.  Hoyt Mann was USNA class of '36, stationed on NASNI first in 1939 and again in 1947, with Sara.  Her sister was born in the Coronado Naval hospital.  Her parents retired in 1966 and returned to Coronado to the house they bought in 1947.
Coming back to Coronado in 1971, Sara worked at the Hotel Del Coronado until 1976 when she married John Wells, an optometrist.  They moved to El Centro in 1976, where John had an optometric practice.  In 1992 following John's retirement, they came to live in the Coronado home his grandparents bought in 1923. 
Sara has served as co-chair of the Historic Homes Tour and on a variety of boards.          
Claudia Gallant
Claudia brings to the board a career in public education experience, with skills in preschool through grade 12 curriculum and assessment development, District and non-profit strategic planning and facilitation, grant writing, teacher evaluation, and public speaking.
With a bachelor in Spanish and extensive post-graduate studies mostly in literacy, Claudia taught grades K-5 (Spanish, drama, general) at Coronado's Christ Church Day School then Village Elementary School for 26 years.  She served as a district coordinator, assistant principal, and ultimately the senior director of learning for the Coronado Unified School District for the last seven years.  In that role, she oversaw all preschool to grade 12 classroom instruction and assessment, educational programs, and strategic planning.
Retiring in June, Claudia is newly appointed to the Coronado Schools Foundation Board. Her professional involvements have included local planning council (CUSD and Naval Base Coronado), Coronado Human Relations Commission, Greater San Diego Reading Association, and Association of Supervision and Curriculum Development.  A long-time Coronado resident, she has lived in San Diego for the past six years and maintains her active involvement in the Coronado community.
Edry Naddour Goot
Edry brings to the board diverse skills and experience in retail management and ownership, counseling, historic resource preservation, and interior design.  Her education includes an associate degree in interior design (Scottsdale Community College), a BA in psychology (Arizona State University), and a Masters in Counseling (University of Phoenix).  
For 15 years, Edry was a retail store manager then district sales manager for Foxmoor Casuals, covering 15 retail stores in four states.  Following work as an assistant store manager for Sakes Fifth Avenue, she owned her own clothing and shoe store in Scottsdale.  Upon completion of her master's degree, she was a marriage and family counselor in private practice for 14 years.  Since 2004, she has been semi-retired as an interior designer.  She currently serves as a Commissioner on the Coronado Historic Resource Commission.
Marvin Heinze
Marvin brings to the board extensive experience in military leadership, service on multiple non-profit boards and several architectural and historic resource review boards; and diverse community involvement.  Marv is a 28 year Navy veteran who served as Chief of Staff for Sixth Fleet and commanded Explosive Ordnance Disposal Group one and EOD Mobile Unit Two.  Currently, he is the Homeland Defense Advisor and Deputy for Operations and Plans in the Navy's Mine Warfare Task Force.
Marv currently serves as Chair of the Coronado Planning Commission.  He has served on the Board of the Community Emergency Response Team (CERT), the Street Tree Committee, the Board of Directors of the Coronado Cays Homeowners Association, and as secretary and treasurer of the Silver Strand Chapter of Military Officer's Association of America.  In other communities, he served on the Architectural and Historical Review Commission (Benicia CA), the Historic Resources Commission and the  Historical Restoration and Preservation Commission (Alexandria VA). His education includes a Bachelor of Science in Architecture, a Master's degree in Mechanical Engineering, Alexandria, VA and numerous national security related programs.
Marv is also an Adjunct Professor at National University, on the Advisory Board for the USO of San Diego, a Committee Member of the San Diego Bowl Games Association, Chairman of the Pacific Regional Advisory Council of the National Parks Conservation Association, and a consultant in homeland security matters. He has been a Coronado resident for 29 years, now living in the Coronado Cays.
Katy Bell-Hendrickson
Katy Bell Hendrickson was born in Coronado, the daughter of a Navy SEAL.  She  spent time throughout her childhood living on the island and visiting family here. Her husband is also a native of Coronado and their childhood romance dates back to the 4th of July parade c 1971.  She is a graduate of Virginia Tech with a Bachelor of Arts and has a Masters in Architecture from the University of California, Berkeley. 
Katy launched her career as an architect in the Bay Area focusing on civic work with an emphasis on historic preservation in the modernization of institutional buildings.  She has owned and operated her own design firm practicing primarily in residential design, preservation and development. 
She has been a permanent resident of Coronado since 2013, married to a Navy SEAL, Rear Admiral D. Brian Hendrickson and raising three active sons in Coronado public schools.  Also present in Coronado are both sets of grandparents, providing additional support to family and military life.  Katy is a contributing writer to eCoronado covering stories that address the built environment.  Her interests include regional architecture, master planning, and education.  She divides her time between parenting, duties as a flag spouse and remodeling her fifth home.  She has not missed a 4th of July parade in Coronado in 17 years. 
Susan Keith
Susan Keith's name is as closely associated with the Coronado Historical Association as any in the community today.  Her long and rich family history in Coronado dates to the nineteenth century and has been a constant inspiration for service to the community.  Susan has served on the Association's Board at three or four different times over the years, reaching all the way back to when CHA's offices were in the old Babcock Court.  She is a past Board President and has served as chairperson of numerous committees for the Association, particularly those having to do with Membership, Preservation, Strategic Planning, and Board Governance.  She has been a stalwart supporter of our spectacular Historic Home Tour every year.
Susan's recent work as the Navy's official Sponsor for the USS Coronado has enriched the Association's already strong ties with the Navy.  Her passion has been to keep history alive and to continuously push for high-quality collections in our professional archive.
Tom Mitchell
Tom brings to the board extensive community involvement and experience as a Coronado history docent, and leadership in youth and adult organizations.  A graduate of Auburn University, he was a career Naval officer and aviator for 27 years.  Assigned to Coronado with his family, he has actively supported the Coronado High School sports programs as president of the All Sports Booster Club, Water Polo Booster  Club, and Boys' Basketball Booster Club.  He has been active at St. Paul's United Methodist Church on numerous committees, teaching Sunday School, and continues today as chairman of their Staff Parish Committee.
Upon retiring from the Navy, Tom worked as a Fed Ex pilot for 13 years.  Throughout this time, he continued to serve the Coronado community.  For almost 20 years he has been a Hotel Del Coronado Docent, both when the hotel had its own tour program and now through Coronado Historical Association.  He is the president of the Rotary Club of Coronado and president of his homeowners' association.  
Kelly Sarber
Born and raised in Coronado, Kelly Sarber is CEO and President of Strategic Management Group, a national environmental development company (based in Coronado) with a focus on project development and start-ups.  Kelly has been responsible for the development, permitting, construction and management of environmental projects worth a cumulative value of over two billion dollars—most still operating today. As a result, she has been featured in positive, front-page profile articles, including the Wall Street Journal.
Her early career included: being Press Secretary for the 1984 Olympics and Lead Advance for the Torch Relay; Director of Media, Ticketing and Secret Service Interface for the 1987 Papal Visit of Pope John Paul; and National News Director for the 1990 Earth Day National Organization. 
Kelly has undergraduate degrees from UCLA in Economics and Political Science, MBA from the University of Colorado, and completed post graduate work at Harvard Business School.
Jamie Teagle-Burgos
Jami Burgos is a practicing federal senior attorney adjudicator at the Social Security Administration in San Diego, with a background in health law advocacy at the Legal Aid Society of Orange County. She grew up in Imperial Beach and is a fourth-generation San Diegan. Jami remembers childhood adventures along The Strand and working many Coronado jobs to support her schooling, with especially fond memories of serving locals and celebrities at the Hotel Del.
She graduated from Smith College in Massachusetts and returned home to attend law school at Cal Western School of Law.  Jami's husband, Chander, also grew up in San Diego as his father was stationed at NASNI. Chander attended and teaches at USC, and operates a manufacturing plant specializing in military defense contracts. Their son, Chaden, attends Village Elementary, as will their toddler daughter, Demi.
The couple recently renovated their Coronado home, the Glenn Curtiss House, which received historical designation, and Coronado Historical Association's GEM Award.  They continue to work on house projects and enjoy the "island life" with their children, and lots of family who live nearby.
Kitt Williams
Kitt Williams is a retired Human Resources Director and has been a Coronado resident since 2013.  She and her family originally moved to Coronado in 1957 when her father, a Navy Captain, was stationed at North Island.  She attended Coronado public schools through her freshman year of high school.  Her parents retired to Coronado from 1968 to 1998.  Kitt received a BA degree from Longwood University and an MS in Counseling from Radford University.
Kitt's 40-year career in Human Resources included a variety of corporations, government agencies and international nonprofits, including World Wildlife Fund, Arbitron and American Councils for International Education.  She also consulted extensively for NASDAQ.  She achieved the designation of Senior Professional, Human Resources (SPHR).
Since her retirement, she has volunteered for the Coronado Chamber of Commerce and currently assists the Coronado Historical Association with administrative tasks and human resources matters.  She is serving as a member of the City of Coronado Civil Service Commission.  She and her husband are avid runners and participate in races on weekends.  
Margaret Eske Zoehrer
Margaret brings to the board experience in cultural arts and museums, homeowner board leadership, and community involvement.  Raised in El Centro, Margaret studied English and French at the University of San Diego.  After traveling the world as the wife of a Naval officer, she settled in Coronado where she has lived for 31 years.  Experienced in the field of culture and the arts, she has been a docent at the San Diego Museum of Art for the past 20 years.  She served as Chair of Docent Training for two years where she provided general training as well as specialty training in the Asian arts.  She is also a docent emeritus at the Timken Museum of Arts, where she was a docent for 15 years, stopping to focus on the San Diego Museum of Art. 
Margaret has served on The Landing Homeowners Association for 5 years and she has been its president for the past three years.  She is an active member of Sacred Heart Church, where she coordinates the lector and weekday ministers.  She is also involved with the PEO Chapter UD, an organization throughout the US that supports women's education, including owning a college and providing millions of dollars in scholarships.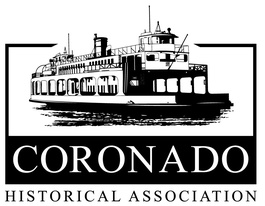 Become a member
We preserve and share Coronado's unique and wonderful history with intriguing exhibits and innovative programs for all ages.
MEMBERSHIP BENEFITS INCLUDE:
Free admission to the Museum of History & Art
Two complimentary tickets to our Historic Walking Tour of Coronado
Invites to members-only events
...and much more!
Membership information