619.435.7242
1100 Orange Avenue, Coronado CA 92118
Board of Directors Biographies
Jane Braun, President
Jane has been in the financial services industry for over 35 years.  She holds the Certified Financial Planner certification and a Master's Degree in financial planning and taxation from San Diego State University.  Presently Jane is earning a credential from Cal State Long Beach as a Certified Specialist in Planned Giving.
As a Wealth Manager with Manning Wealth Management, Jane works with families and individuals helping her clients address multi-generational planning issues and legacy goals.  Through her educational series Women, Wealth & Wisdom, Jane inspires women to take control of their financial futures. Jane is a Registered Representative and Investment Adviser Representative of Commonwealth Financial Network® and was previously employed by JP Morgan Chase as a senior advisor.
Jane has resided in Coronado for the past 20 years.  Her five young adult children, ranging in age from 31-21, have all matriculated through the Coronado schools, in which Jane continues to be heavily involved.  Jane serves as President Elect of San Diego Blood Bank and is a member of the San Diego Military Advisory Council, the Rotary Club of Coronado, the San Diego Planned Giving Partnership, and the Coronado Schools Foundation Planned Giving Committee.  She also serves on the executive council of San Diego's chapter of Ellevate, a professional women's network.
Jamie Teagle-Burgos, Vice President
Jami Burgos is a practicing federal senior attorney adjudicator at the Social Security Administration in San Diego, with a background in health law advocacy at the Legal Aid Society of Orange County. She grew up in Imperial Beach, and is a fourth-generation San Diegan. Jami remembers childhood adventures along The Strand, and working many Coronado jobs to support her schooling, with especially fond memories of serving locals and celebrities at the Hotel Del.
She graduated from Smith College in Massachusetts, and returned home to attend law school at Cal Western School of Law.  Jami's husband, Chander, also grew up in San Diego as his father was stationed at NASNI. Chander attended and teaches at USC, and operates a manufacturing plant specializing in military defense contracts. Their son, Chaden, attends Village Elementary, as will their toddler daughter, Demi.
The couple recently renovated their Coronado home, the Glenn Curtiss House, which received historical designation, and CHA's GEM Award.  They continue to work on house projects and enjoy the "island life" with their children, and lots of family who live nearby.
Keith Fargo, Treasurer
Keith Fargo is a retired U.S. Navy Supply Corps Officer who during his 29 year Naval career managed submarine, surface ships, and at shore-based logistics operation.  Following his Naval career, he was defense contractor with Booz Allen Hamilton for 8 years and provided process improvement analysis and logistics management support for U.S. Navy clients.
Keith grew up in a Naval family that called Coronado their home and has lived in Coronado off and on during his Navy career.  He graduated from Coronado High School (class of 1970).  He went on to the University of Southern California and received his BS in Business Administration and then earned his MBA at Berkeley. Keith became a Navy Supply Corp Officer in 1974 through the Officer Candidate School Program.  
Keith has been involved in many non-profits including: YMCA Overnight Camps Board of Management  (2006-Present) (Chairman 2012-2014), Naval Submarine League Pacific Southwest Chapter (2005-Present) (Currently Treasurer), Christ Church Coronado, Audit Board (Chairman 2010-2011), Christ Church Coronado, Parish Investment Board (2012-Present) (Chairman 2013-2014).
Sara Wells, Secretary

As with many Coronadans, Sara traces her Coronado roots to her father's association with the US Navy.  Hoyt Mann was USNA class of '36, stationed on NASNI first in 1939 and again in 1947, with Sara.  Her sister was born in the Coronado Naval hospital.  Her parents retired in 1966 and returned to Coronado to the house they bought in 1947.
Coming back to Coronado in 1971, Sara worked at the Hotel Del Coronado until 1976 when she married John Wells, an optometrist.  They moved to El Centro in 1976, where John had an optometric practice.  In 1992 following John's retirement, they came to live in the Coronado home his grandparents bought in 1923. 
Sara has served as co-chair of the Historic Homes Tour and on a variety of boards.
Carrie O'Brien, immediate past President
Carrie O'Brien is a residential Real Estate Broker in Coronado and owner of Flagship Properties, Inc., with her husband, John O'Brien.  She has lived in Coronado for the past 22 years, raising both her children here. Along with selling residential real estate, she and her husband have re-developed six historical homes in town.  They received the 2009 Cobb-MacCartee Preservation Award from the Coronado Historical Association for this work and other related activities. 
Carrie currently serves on the board of the Patrons of the Prado, which raises funds for museums in Balboa Park.  She is a past president of the UCSD Cancer Center's Board and has served on the board of the Starlight Theatre.
Debbie Bell
Debbie Bell has lived in Coronado for 17 years.  She has a BA in social work from Virginia's Longwood University, MS in social work from Virginia Commonwealth University and diplomas from the US Air Force Air Command and Staff College and the Air War College.  She is a licensed clinical social worker and Certified Corrections Executive.  In her DOD civilian career, she served as clinical director for the Pirmasens Army Post, Germany, and directed the USAF's correctional rehabilitation programming at Lowry AFB, Colorado.  She is currently Technical Director at the Naval Consolidated Brig Miramar as the senior policy advisor to the command. Debbie has received DOD meritorious service medals, Distinguished Federal Supervisor of the Year, GEICO Public Service Awards and the San Diego Business Journal 2009 Women Who Mean Business Exemplary Award.  She is on the Board of Trustees of United Through Reading, and volunteers at Graham Memorial Presbyterian Church Thrift Cottage and the Coronado Visitor Center (for the past 15 years).  Debbie lives with her husband, Dr. Gary L. Smith. They have two adult children, Renee and Paul Smith; Paul, his wife and son also live in Coronado.
MJ Crow
Marijean (MJ) Crow has been a Coronado resident since 1979 when she moved here as a new Navy bride with her husband, Robin Mickle. She graduated from Stanford University and has worked in undergraduate admissions at SDSU, UCSD, and UCSB ever since. When her son left for college nine years ago, she started volunteering as a docent for CHA, giving Hotel Del, Heritage, and historical bike tours.         
Brad Gerbel

Brad Gerbel moved to Coronado in 1985 when he was 15 years old and graduated from Coronado High School.  He earned his Bachelor of Accountancy degree from the University of San Diego in 1992, and earned a Master of Science in Accountancy from San Diego State University in 1993.  After graduating from San Diego State University, he took a job with KPMG Peat Marwick in Long Beach, CA.  Brad lived and worked in Los Angeles County for two years, before returning to Coronado and working for Ernst & Young in San Diego.   He left E&Y to form my own accounting firm.
Brad joined his family's company, University Blanket & Flag, in 1999 and worked in the office on Orange Avenue.  His family's company holds over 540 collegiate licenses and their flag products are sold in college bookstores across the United States.
His proudest accomplishment as a resident of Coronado was leading the effort last summer to oppose the proposed beach bike path, which was going to be built on Coronado's beautiful beach.
In his free time he likes to hike and enjoy everything that Coronado has to offer.
Sue Gillingham
Sue GIllingham's dad was an aviator stationed at North Island during her childhood, but over the next fifty-some years, she lived all over the U.S., including several stops in Coronado. In 1999, Sue and her family moved back to Coronado to finally put down roots.
She graduated from Tufts University in Medford, MA, with a degree in Psychology, has an MBA from the University of Southern California, and a graduate Certificate in Non-profit Leadership from the University of San Diego. 
After a career with defense contractors, she left the corporate world and began a new adventure with restoration of Trant Manor, a historic Coronado boarding house.  The dilapidated building was resurrected as the 1906 Lodge at Coronado Beach, which has won a number of prestigious preservation and architectural awards.  Within a year of opening in 2009, the 1906 Lodge was also recognized as Coronado's #1 hotel on TripAdvisor. 
When her partners in the 1906 Lodge decided to sell the property in late 2013, Sue turned her talents to consulting.  She works with small hotels and historic bed and breakfast inns, assisting them in improving their bottom line, while providing stellar guest service.  She is currently the Managing Director of the Hotel Marisol Coronado, the newly renovated historic hotel that was the Village Inn for many decades. 
Katy Bell-Hendrickson
Katy Bell Hendrickson was born in Coronado, the daughter of a Navy SEAL.  She  spent time throughout her childhood living on the island and visiting family here. Her husband is also a native of Coronado and their childhood romance dates back to the 4th of July parade c 1971.  She is a graduate of Virginia Tech with a Bachelor of Arts and has a Masters in Architecture from the University of California, Berkeley. 
Katy launched her career as an architect in the Bay Area focusing on civic work with an emphasis on historic preservation in the modernization of institutional buildings.  She has owned and operated her own design firm practicing primarily in residential design, preservation and development. 
She has been a permanent resident of Coronado since 2013, married to a Navy SEAL, Rear Admiral D. Brian Hendrickson and raising three active sons in Coronado public schools.  Also present in Coronado are both sets of grandparents, providing additional support to family and military life.  Katy is a contributing writer to eCoronado covering stories that address the built environment.  Her interests include regional architecture, master planning and education.  She divides her time between parenting, duties as a flag spouse and remodeling her fifth home.  She has not missed a 4th of July parade in Coronado in 17 years. 
Susan Keith
Susan Keith's name is as closely associated with the Coronado Historical Association as any in the community today.  Her long and rich family history in Coronado dates to the nineteenth century and has been a constant inspiration of service to the community.  Susan has served on our Board at three or four different times over the years, reaching all the way back to when CHA's offices were in the old Babcock Court.  She is a past Board President and has served as chairperson of numerous committees for the Association, particularly those having to do with Membership, Preservation, Strategic Planning, and Board Governance.  She has been a stalwart supporter of our spectacular Historic Home Tour every year.
Susan's recent work as the Navy's official Sponsor for the USS Coronado has enriched the Association's already strong association with the Navy.  Her passion has been to keep history alive, and to continuously push for high quality collections in our professional archive.
Becci Rocco
Becci Rocco is a native of Ohio. She graduated from the University of Dayton and moved to California in 1985. From 1985 through 1993, she worked in a variety of local companies, performing a number of jobs with emphasis on sales and marketing. Beginning in 1993, and continuing through 2007, Becci's business life was devoted to fundraising for a wide variety of institutions. Some of the highlights include from 1993 through 1997, Becci worked as Assistant Director for UCSD's annual fund raising campaign. She was responsible for initiating the direct mail and telemarketing programs. She also worked with the Provosts from each college, as well as various Deans and Directors associated with the School of Medicine, Scripps Institution of Oceanography, School of Engineering, Birch Aquarium and the Alumni office. Her work was intended to raise annual funds for those institution's respective programs. Incidentally, her greatest joy at the time was working with student organizations, where she assisted them in raising funds to complete worthwhile programs around the campus. From 1997 through 2001, Becci joined Mercy Hospital Foundation where she worked her way up from Development Associate to Vice President. At Scripps Mercy Hospital, she was asked to initiate a $10 million capital campaign for the Cardiology Department to raise money for new lab equipment as well as a $5 million campaign to improve the Medical Library facilities. She was in charge of the annual fund drive and provided oversight and stewardship of the $1000 giving club (Mercy 1000) and donor recognition programs. At Mercy, Becci was asked to complete the Scripps Chula Vista Hospital capital campaign which included donor recognition, closing out pledge commitments and orchestrating a recognition celebration. Through 2001 and 2007, Becci held the position of Executive Director at Sharp Coronado Hospital Foundation. During her tenure there, Becci and her team implemented a $10 million capital campaign to raise money for improvements to the Emergency Room and First Floor in general. Additionally, the Foundation was able to secure a $10 million matching grant through the City of Coronado's Community Development Agency. In 2006, Becci moved to the community of Coronado, where she and her husband Bob keep busy with travel, participating in various local and national organizations, and watching over there two dogs and two cats.
Kelly Sarber
Born and raised in Coronado, Kelly Sarber is CEO and President of Strategic Management Group, a national environmental development company (based in Coronado) with a focus on project development and start-ups.  Kelly has been responsible for the development, permitting, construction and management of environmental projects worth a cumulative value of over two billion dollars—most still operating today. As a result, she has been featured in positive, front-page profile articles, including the Wall Street Journal.
Her early career included being name Press Secretary for the 1984 Olympics and Lead Advance for the Torch Relay, Director of Media, Ticketing and Secret Service Interface for the 1987 Papal Visit of Pope John Paul, and National News Director for the 1990 Earth Day National Organization. 
Kelly has undergraduate degrees from UCLA in Economics and Political Science, MBA from the University of Colorado, and completed post graduate work at Harvard Business School.
Jim Strickland
After retiring from a distinguished career as an Air Force officer in 1992, followed by several years as a defense industry consultant, Jim Strickland and his wife Sandy decided to return to their home in Coronado in 1994.  They remodeled it, settled in and began enjoying life "in this beautiful, historic village for good."  Jim looked forward to getting more involved with the community. Since that time he has been actively involved in several local organizations and civic groups, including the Coronado Planning Commission from 1997-2003, serving as Chair in 2003.  During his tenure, he chaired or served on several important committees conducting studies, including the Residential Standards Improvement Project Committee, which he chaired.  Jim has previously served on the CHA Board as Treasurer.
Gina Tapper
Ms. Tapper has over 30 years of professional experience providing a wide range of management advisory and decision support services to hospitals, regional integrated health care networks, multi-system health care organizations, skilled nursing facilities, county governments and health agencies, home health care agencies, and other health care organizations. Her areas of expertise include planning and development of clinical programs, marketing, and strategy. Ms. Tapper is currently engaged as a Clinical Fellow and Director with the BDO Center for Healthcare Excellence & Innovation. She began her business career at Price Waterhouse's (now PwC) Management Consulting Group where she worked 16 years on the Healthcare, Retailing, and Strategy practice teams.  She then established Tapper & Associates, Consultants to the Health Care Industry. Before entering business school, she was a Clinical Nurse Specialist at Massachusetts General Hospital Department of Pediatric Neurology/Eunice Kennedy Shriver Center in Boston, and an Associate Clinical Professor of Pediatric Nursing at Boston University Graduate School of Nursing. Ms. Tapper is a resident of Coronado and lives in a recently renovated cottage which was featured on the 2015 Coronado Historical Association Home Tour.
Elizabeth Wampler
Elizabeth Wampler moved to Coronado in 1993.  After graduating from San Diego State University, Elizabeth became Program Director for the San Diego USO, which was then located in downtown San Diego.  She worked with young service men and women stationed here to ensure their off-hours and experiences away from home and family were memorable, welcoming, fun and enjoyable.  It was during this time that Elizabeth moved to Coronado, and immediately fell in love with everything about the island. 
Shortly thereafter, she met and married her husband, Steve, also new to Coronado.  Elizabeth and Stephen Wampler have become known nationally as leading supporters and advocates for people with disabilities.  Together they founded the Stephen J. Wampler Foundation, a camp for kids with disabilities.  The Wampler Foundation's mission is to make adventure programs accessible to all children regardless of their background or ability.  Since its inception in 2002, the Foundation has sponsored hundreds of children from across the United States to attend Camp Wamp, giving them a unique wilderness experience.  It also facilitates outdoor education for youth.  
Art Wilcox
Art Wilcox is a licensed real estate attorney with more than 40 years of practice.  Art received his Juris Doctor from the University of South Carolina School of Law and and a BA from the Georgia Institute of Technology. In 2016 Mr. Wilcox was selected as one of San Diego Magazines top Real Estate Lawyers. Mr. Wilcox and his wife Dana are Coronado residents and live in a historic Palmer home.
Kitt Williams
Kitt Williams is a retired Human Resources Director and a Coronado resident since 2013.  She and her family originally moved to Coronado in 1957 when her father, a Navy Captain, was stationed at North Island.  She attended Coronado public schools through her freshman year of high school.  Her parents retired to Coronado from 1968 to 1998.  Kitt received a BA degree from Longwood University and an MS in Counseling from Radford University.
Kitt's 40-year career in Human Resources included a variety of corporations, government agencies and international non-profits, including World Wildlife Fund, Arbitron and American Councils for International Education.  She also consulted extensively for NASDAQ.  She achieved the designation of Senior Professional, Human Resources (SPHR).
Since her retirement, she has volunteered for the Coronado Chamber of Commerce and currently assists the Coronado Historical Association with administrative tasks and human resources matters.  She is serving as a member of the City of Coronado Civil Service Commission.  She and her husband are avid runners and participate in races on weekends.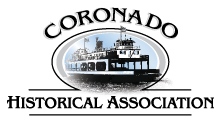 Become a member
We preserve and share Coronado's unique and wonderful history with intriguing exhibits and innovative programs for all ages.
MEMBERSHIP BENEFITS INCLUDE:
Free admission to the Museum of History & Art
Two complimentary tickets to our Hotel del Coronado Tour
Subscription to our quarterly newsletter, History Matters
...and much more!
Membership information