Join the Coronado Historical Association & the Coronado Detachment of the Marine Corps League for an incredible evening as we delve into the rich history of the Marine Corps league! We hope to illuminate the deep history that the Marines, San Diego, and Coronado share, while at the same time describe their newly-chartered chapter of the Marine Corps League's purpose to strengthen the fraternity of Marines and their families; and to foster the ideals of Americanism and patriotic volunteerism right here in Coronado. The evening will consist of panel members who will discuss the past, present, and future of the League.  
The reception will begin at 5:30 with the event starting at 6:00 pm.
Members $10 | Non-Members $15. Food & Drinks included in the ticket price. 
Bios of Panelists Below: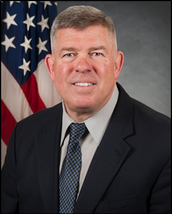 Colonel James F. Jamison, USMC (Ret) was born in Appleton, Wisconsin in 1955. He enlisted in the Marines in 1974 and achieved the rank of Corporal before accepting an appointment to the US Naval Academy. After USNA graduation in 1980 and The Basic School in 1981, he earned his Naval Aviator wings at Pensacola, FL in 1982. Jim primarily flew UH-1N utility helicopters, deploying with several squadrons. He completed a tour as an instructor pilot at the Fleet Replacement Squadron, before becoming a Forward Air Controller for Battalion Landing Team 2/1. He then served with the Presidential Helicopter Squadron, HMX-1 from 1988-1992 flying the CH-46E and VH-3D & VH-60N executive lift helicopters for Presidents Reagan and G.H.W. Bush.  Jim did his Joint tour with the U.S. Transportation Command at Scott Air Force Base, Illinois as the Concepts and Technology Officer. He then served as Operations Officer for Marine Air Group 39 before commanding and deploying HMLA-367 Scarface, a Huey and Cobra squadron, from 1999 to 2001. He was a Senior Fellow for the CNO's Strategic Studies Group prior to taking command of Expeditionary Warfare Training Group, Atlantic from 2003-2005. Jim then served as Deputy Commander of the U.S. Safety Center in Norfolk, VA and as the Senior Marine at Commander Naval Air Forces, North Island Naval Air Station where he retired from the Marines in 2009. He took a government civilian position as Chief of Data Requirements on the Joint Staff J6 in Norfolk, VA from 2009-2017. He is currently a Professor of Joint Maritime Operations for the Naval War College and Adjunct Faculty for the Marine Corps Command and Staff College. Over the years, he has earned four master's degrees, including a National Security and Strategic Studies Masters from the Naval War College in 2001 and an MBA from Regent University in 2013. He is an Operation Iraqi Freedom veteran. He has been married to the former Jamie Gallant of Coronado, CA for over thirty years; together they have three adult children: James, Jr., Joy, and John.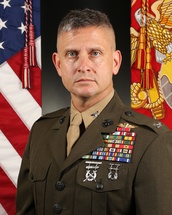 Colonel Christian T. Ellinger 
Colonel Ellinger serves as the Command Inspector General, Marine Corps Recruit Depot San Diego/Western Recruiting Region. Colonel Christian Ellinger enlisted in the Marine Corps in 1991.  While serving as an infantryman with the 2nd Marine Division, Lance Corporal Ellinger was accepted for the Enlisted Commissioning Program (ECP) and was commissioned a Second Lieutenant in the Marine Corps Reserve in 1993.  Following The Basic School, Second Lieutenant Ellinger attended the Field Artillery Officer Basic Course and reported to 3d Battalion, 10th Marines, where he served as a Forward Observer, Battery Fire Direction Officer, Battery Executive Officer, and Headquarters Battery Commanding Officer. With augmentation into the Regular Component in 1997, First Lieutenant Ellinger was reassigned to 1st Air Naval Gunfire Liaison Company (ANGLICO) and served as a Firepower Control Team (FCT) Leader.  Upon completion of the Field Artillery Captain's Career Course in 1999, Captain Ellinger reported for duty with the 13th Marine Expeditionary Unit (Special Operations Capable) as the Force Fires Coordinator.  The MEU supported Humanitarian Operations in East Timor and Operation DETERMINED RESPONSE in support of the attacked USS COLE in Aden, Yemen In March 2001, Captain Ellinger took command of Battery G, 2d Battalion, 11th Marines. In March 2002, he assumed duties as the Assistant Liaison Officer to the 5th Marine Regiment. In October 2002, Major Ellinger reported to the 5th Battalion, 11th Marines for duty as the Operations Officer.  In February 2003, the Battalion deployed to Kuwait in support of Operation ENDURING FREEDOM and in March 2003, the Battalion supported the 1st Marine Division's attack north into Iraq in support of Operation IRAQI FREEDOM.  Upon return to CONUS, Major Ellinger transferred to Expeditionary Warfare Training Group (Pacific) for duty as the Expeditionary Fires Course Manager. In July 2005, Major Ellinger reported to the College of Naval Command and Staff and after graduating in June 2006, he was assigned to Joint War Fighting Center J-7, United States Joint Forces Command as the Joint Training Manager. He was promoted to Lieutenant Colonel in September 2008 and reported to the 11th Marine Regiment in July 2009. He deployed with I MEF (Fwd) to Afghanistan as the Deputy Fires and Effects Coordinator in support of Operation ENDURING FREEDOM from March until September 2010.  Upon return to CONUS, Lieutenant Colonel Ellinger served as the 11th Marines Executive Officer and then as the Commanding Officer.  In August 2011, he transferred to Tactical Training Group (Pacific) for duty as the Joint Syndicate Head. Lieutenant Colonel Ellinger rejoined the Cannon Cockers and took command of 2d Battalion, 11th Marines in November of 2012. Upon giving up command in April 2014, Lieutenant Colonel Ellinger volunteered to deploy forward to Afghanistan to serve as the Marine Expeditionary Brigade-Afghanistan (MEB-A) Fires and Effects Coordinator (FEC).  Upon return to CONUS, Lieutenant Colonel Ellinger assumed duties as the I Marine Expeditionary Force (I MEF) Deputy FEC. In April 2015, he reported to Expeditionary Warfare Training Group (Pacific) as the Director of Operations and Training (N7). Colonel Ellinger reported to MCRD San Diego in June 2018. Colonel Ellinger has been awarded various personal, unit and campaign awards for combat and meritorious service. Colonel Ellinger is married to Captain Jennifer Ellinger, USN, of Palm Harbor, Florida. They live in Coronado, CA and have two children; Madelyn 19 and Hayden 13.