Save the Date! Tickets will go on sale soon!

Join CHA for a special lecture on attack aviation by Brig. Gen. RG Head. Attack aviation is intense and dangerous. It necessitates the direct engagement of ground and sea targets at low altitude. Attack aircraft are usually specialized fighters or fighter-sized aircraft, with one or two engines, and one or two crew. This work provides an overview history of American attack aviation from its inception to present, including both the US Navy and Air Force. The pillars of the narrative are several case studies that characterize the evolution of technology and tactics over time: SBD Dauntless, AD Skyraider, A-4 Skyhawk, A-7 Corsair II, A-10 Thunderbolt II, and F-16 Falcon, F/A-18 Hornet and F-35 Lightning II. Each of the cases contains first-person accounts that include a description of the aircraft's origin, competitive procurement, major attack features, and combat employment. Author R.  G. Head (Brig. Gen., Ret.) has extensive experience in combat (325 missions, DFC, Silver Star) and an in-depth understanding of doctrine (taught future pilots at the Air Force Academy) and gained first-person exposure to the policy and engineering aspects of the aircraft procurement process while serving at the Pentagon and later as a private consultant working in collaboration with the US Navy. This is a story about flying. It is told by Naval aviators, Air Force fighter pilots, and the men who built the airplanes the pilots flew.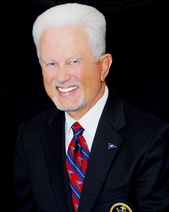 About the Speaker:
Brig. Gen. RG Head, USAF (Ret.), was an Air Force fighter and attack pilot with 325 combat missions. His military commendations include the Silver Star and the Distinguished Flying Cross. He has a PhD from Syracuse University, taught at the Air Force Academy, served in four policy positions in the Pentagon and overseas, and spent over 15 years in systems engineering with the US Navy. This is his fifth book.