THIS EVENT IS SOLD OUT ~ NO WALK UPS WILL BE ACCOMODATED
Thursday, September 16, 2021 | 5:30 pm
Empire Builder: John D. Spreckels and the Making of San Diego
Join us as we look behind the scenes at the pioneering legacy of John Diedrich Spreckels with historian Dr. Sandra Bonura. After "discovering" the bankrupt village of San Diego, in 1887, Spreckels left everything behind to follow his heart. His moves were so decisive and sweeping that he virtually controlled most of Coronado and San Diego's industry within a few years. He was at the forefront of innovation and at the top of the 20th century, one in fifteen San Diegans worked for a Spreckels-owned company. He was harshly criticized for perceptions of ruthless business tactics and monopolization. To the strenuous charge that our troubles were derived from the city being a "one-man town," he responded, "If being a one-man town is bad for the town, take it from me, it's hell for the 'one man'!"  Join us this fall to hear the stories that made the community we love today.
Attendance is restricted to fully vaccinated/recent negative COVID-19 test results. Capacity is limited and reservations are required. No walk-ins will be admitted.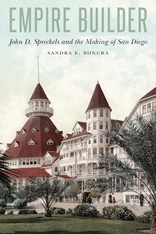 About the Speaker: 
Dr. Sandra Bonura is a proud native San Diegan. Sandee's mother worked at North Island for her entire career and Coronado played an important role growing up. She is a frequent storyteller and lecturer on the importance of using a multitude of primary sources to gain perspective on historical events.  She's at her happiest when she is hunting treasures in archives across the country. Sandee is the author of 5 published works based on found treasures: She is now promoting her fall 2020 biography, the recent winner of San Diego's 2021 Book Award: "Empire Builder: John D. Spreckels and the Making of San Diego."