Thursday, November 18, 2021 | 5:30 pm
Genesis of the Grand Fleet
Join 2001 CHA Graduate Dr. Christopher Buckey as he describes the origins of the British Grand Fleet, the steel armada that helped win the First World War for the Entente powers by controlling the waters of Northern Europe. The story begins with the expansion of the Imperial Germany Navy at the turn of the twentieth century. In response the British began reorganizing their naval forces at home, a process accelerated when Sir John Fisher took over as professional head of the Royal Navy.  By 1907 the previous piecemeal semi-independent commands were being grouped together into a new "Home Fleet '' operating in the North Sea.  At the same time, domestic politics, personal rivalries, and fiscal concerns weighed heavily on the Royal Navy. Dr. Buckey will take us on a tour of how the British Admiralty maintained its maritime preeminence in the early twentieth century.
Attendance is restricted to fully vaccinated/recent negative COVID-19 test results. Capacity is limited and reservations are required. No walk-ins will be admitted.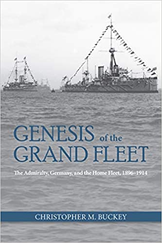 About the Speaker:
A 2001 Coronado High School graduate and son of a U.S. Navy officer, Dr. Buckey is bringing his love for history home. After graduating from U.C. Santa Cruz in 2005 with a degree in history, Dr. Buckey has spent much of the last fifteen years studying the prewar Royal Navy in detail through research at major archive centers in both this country and Great Britain, where obtained a doctorate in contemporary history from the University of Salford in 2014. He currently lives in Coronado in the same house he lived in when he attended high school.