The Coronado Historical Association invites you to join us for a behind-the-scenes look at the pioneering legacy of Henry G. Fenton, told by local historian Dr. Sandra Bonura. Sandee is the award-winning author of multiple published works. Between writing two of her best-known works on the Del and Spreckels family, a new fascinating story emerged. She began penning the biography of Fenton and came away amazed that it is virtually impossible to go anywhere in Coronado without seeing something connected to this forgotten pioneer. Learn how the concrete "eyesore" on the beach in front of the Del came to be. Learn why, after Fenton built the Zuniga Jetty, the rip-rap sea wall on Ocean Boulevard was necessary, and more. We will even hear how Fenton survived being caught between the feuding of Coronado's founding fathers, none other than Elisha Babcock and John D. Spreckels.
Important Registration Information: Capacity is limited and reservations are required. No walk-ins will be admitted.
If you have any questions please email info@coronadohistory.org or call (619) 435-7242.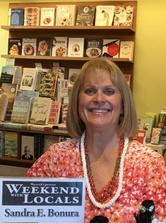 Dr. Sandra Bonura is a proud native San Diegan. Sandee's mother worked at North Island for her entire career and Coronado played an important role growing up. Frequent Coronado and San Diego storyteller and lecturer, She emphasizes the importance of using a multitude of primary sources to gain perspective on historical events.  She's at her happiest when she is hunting treasures in archives across the country. Sandee is the author of 5 published works based on found treasures, including the winner of San Diego's 2021 Book Award: "Empire Builder: John D. Spreckels and the Making of San Diego", and her most recent title: "The Sugar King of California: The Life of Claus Spreckels" (2024).