Thursday, October 21, 2021 | 5:30 pm
John J. Montgomery and the Quest for Flight
John J. Montgomery (1858-1911) was a pioneering aerodynamicist who spent considerable time understanding the basics of flight. He is best known for inventing gliders that were capable of flight as early as 1884 at Otay, and extending these to high-altitude designs by 1905 at Santa Clara, culminating in a glider in 1911 that was capable of both roll and pitch control in wing with no control surfaces in the tail. He is credited with arranging the first public flight of a heavier-than-air flying machine (an unpowered Montgomery glider) in the United States (1905). His story however includes both successes and failures. This lecture will help explain Montgomery's biography and his relationship to other aviators. However, in the US, Montgomery is now remembered in the National Aviation Hall of Fame, and most recently in the International Aerospace Hall of Fame.
Attendance is restricted to fully vaccinated/recent negative COVID-19 test results. Capacity is limited and reservations are required. No walk-ins will be admitted.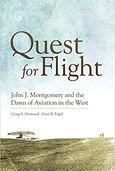 About the Speaker:
Dr. Fogel is also an authority on early aviation in California and an award-winning author. He has written three books about the development of gliding and soaring in the region and, together with his father, helped protect the famous Torrey Pines Gliderport in San Diego as a historic site for gliding. His co-authored biography Quest for Flight focuses on the life of John J. Montgomery, the first person to build and fly a heavier-than-air glider in the Western Hemisphere at a location just south of Chula Vista.  Fogel is a Leader Member, Contest Director, and Fellow of the Academy of Model Aeronautics.  In addition to sharing the history of flying, Dr. Fogel teaches an introductory course in aerospace engineering at San Diego State University to ensure that there is a new generation of aerospace engineers taking up the charge.