619.435.7242
1100 Orange Avenue, Coronado CA 92118
Connect to the Collection
Connect to the Collection
An integral part of the Coronado Historical Association's mission is to collect and preserve the historic artifacts and stories of the men, women, and children who built and lived in Coronado. Here at the Coronado Museum we use these community artifacts to educate and immerse our visitors in interactive experiences. Conservation and preservation efforts are necessary to protect these collections for future generations.

Your generous donation to the Coronado Historical Association's Connect to the Collection program helps pay for the installation, conservation, and ongoing care of the museum's collection. Your support provides the funding needed to continue our mission to educate and inspire future Coronadans through the preservation of our most precious resources.

Get involved in this unique opportunity and help protect our shared history. Make your tax-deductible donation to protect the collection for future generations and Connect to the Collection today!
How Connect to the Collection cares for artifacts:
To preserve the objects, photographs, and papers that make up the collection, the Coronado Historical Association attempts to place each artifact in acid free tissue, folders, and boxes. The curator uses best practices and national standards to determine whether materials such as ethafoam or volara are needed for additional support. This is called "preventive conservation" as the curator works to delay the deterioration of cultural heritage.  However, some artifacts require additional conservation for exhibition. Your donation will help care for all of the artifacts in the collection by providing proper housing, support, and installation.
$100–$249    
Connection Certificate
Recognition in the Coronado Historical Association's newsletter & annual report
$250 - $499    
Benefits as above
Recognition on the Coronado Historical Association's website
Visit with an artifact
$500 - $999    
Benefits as above
White Glove Preservation Kit
$1000+    
Benefits as above
Behind-the-Scenes Tour of the collections storage
Lunch with the Curator of Collections or Executive Director
Listed below are examples of the preservation and conservation needs of the Coronado Historical Association's collection. Please help us care for these artifacts for generations to come.
(Click on small image to enlarge)
1920's Hartmann's Wardrobe Trunk:

Likely used in the early twentieth century, the trunk suffered pest and water damage as well as the effects of time. The interior velvet reveals the grazing of pests, while the exterior paint is slightly warped from rain. The remnants of stickers reveal the trunk was used at the Hotel del Coronado, but time has eroded the adhesive and a conservator's skill is needed to re-adhere them safely.

Toledo Scale Company scale:

Many locals fondly remember Central Drug. Although it opened in the Hotel del Coronado, the family owned pharmacy moved to the 1100 block of Orange Avenue. In order to safely display the scale, it needs to be secured to a wall and an acrylic cover created to guard the scale against physical use.

Jim and Sybil Stockdale's Portraits:

Painted by Margaret Holland Sargent, these portraits depict two beloved figures in Coronado's history. Painted on canvas with ornate frames, the portraits need to be stored vertically on an archival quality powder coated art storage. If stored horizontally, gravity will slowly take its toll on the canvas causing it to sag and the paint to crackle and peel over time.

1918 Rockwell Field Ground Cover:

Few recognize that North Island originally housed both the Navy and Army simultaneously. This ground cover helps tell the story of North Island as the "Cradle of Army Aviation." Although made from hardy steel, it is heavy and bulky to store and display. Extra time, equipment, and care is needed to display this ground cover properly.

Scrapbooks:

Before cellphones, Instagram, and Facebook, families and organizations recorded their activities in scrapbooks. The Coronado Historical Association holds a large collection of delicate scrapbooks. Each contains photographs adhered to volatile paper. Proper storage of acid free tissue and boxes will protect the photographs and artistry of the scrapbooks.

Medieval Cartouche:

Did you know an Ocean Boulevard mansion's garage used to be an art gallery? Built in the 1920s but torn down during the Great Depression, the John Mitchell Art Gallery converted a garage to a gallery to display art work. This cartouche was once part of the collection. In order to display safely, the cartouche needs proper security ties.

Coronado Pharmacy Phone Booth:

In desperate need of a conservator's thorough cleaning, this phone booth will one day be an interactive exhibit used to engage students in Coronado's history.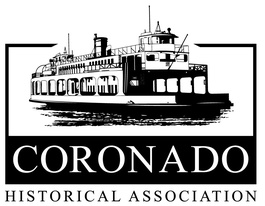 Become a member
We preserve and share Coronado's unique and wonderful history with intriguing exhibits and innovative programs for all ages.
MEMBERSHIP BENEFITS INCLUDE:
Free admission to the Museum of History & Art
Two complimentary tickets to our Historic Walking Tour of Coronado
Invites to members-only events
...and much more!
Membership information