619.435.7242
1100 Orange Avenue, Coronado CA 92118
Youth Art Workshop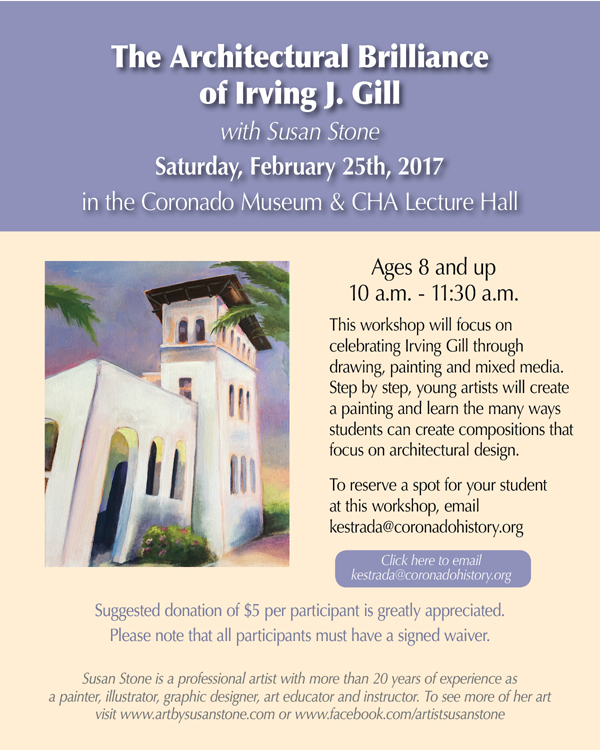 Join us Saturday, February 25th as CHA hosts "The Architectural Brilliance of Irving J. Gill". Led by local artist Susan Stone, this workshop will focus on celebrating Irving Gill through drawing, painting and mixed media. Step by step, young artist will create a painting and learn the many ways students can create compositions that focus on architectural design.
Participants ages 8-18 are welcome to attend. The session will run from 10:00am-11:30am. 
To reserve a spot for your student at this workshop, email kestrada@coronadohistory.org. Please note that a small donation in the amount of $5 is requested to cover the cost of materials. 
Susan Stone is a professional artist with more than 20 years of experience as a painter, illustrator, graphic designer, art educator and instructor. To see more of her art visit www.artbysusanstone.com or www.facebook.com/artistsusanstone
All participants must have a completed participation waiver on file before participating in our program.
DOWNLOAD THE PROGRAM FLYER HERE
Youth Programs
Are you interested in scheduling a program for your Scout or Homeschool Group? The Coronado Historical Association has tours and programs that are perfect for all Junior Historians.
Tours and educational programs of the Hotel Del Coronado and the Coronado Historical Association are available upon request. Trained museum staff teach local history while guiding youth groups through some of Coronados most historic landmarks. Discounted pricing available for all youth tour programs.  
Please email Education Director, Katelynn Estrada at education@coronadohistory.org ro call 619-435-7242.
Testimonials:
"Thank you for the lovely Tour of both the Del and the Coronado Historical Association & Museum. Both are filled with Coronado history. Our group very much appreciated this Tour. As I am looking forward to the new school year, next September, I will keep this on my list of Field Trips. " -Tammy A.
"A big thank you to the Coronado Historical Association and Katelynn Estrada! Daisy Troop 6216 had the pleasure of learning about Coronado's history last week with Katelynn. She gave us a brief history with some wonderful photos and patiently answered the girls questions (and listened to their comments). We then went into the museum where we got a walking tour followed by a scavenger hunt. The Daisy Girl Scouts were so proud to find the various artifacts. It was all around a fantastic outing for our troop. If you haven't been to Coronado Historial Association to see the town's history museum, I recommend you do!"- Sincerely, Daisy Troop 6216.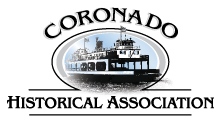 Become a member
We preserve and share Coronado's unique and wonderful history with intriguing exhibits and innovative programs for all ages.
MEMBERSHIP BENEFITS INCLUDE:
Free admission to the Museum of History & Art
Two complimentary tickets to our Hotel del Coronado Tour
Subscription to our quarterly newsletter, History Matters
...and much more!
Membership information