619.435.7242
1100 Orange Avenue, Coronado CA 92118
Last Stop Coronado!
How transportation built a community.
Message from the Curator:
It has been six months since I joined the Coronado Historical Association. During this time my favorite thing to do is observe how our museum patrons—particularly our family guests—respond to our exhibits. The new Irving J. Gill exhibit features a children's activity space that includes education activities about Mr. Gill's favorite architectural forms, "the line, the circle, the arch, and the square". Seeing how children interact with their siblings, parents and grandparents in this space sparked a memory from the USS Constitution Museum. At the USS Constitution, a new movement in the museum field was born in 2004. The Family Learning Project is a collaboration of Navy and USS Constitution Foundation historians and museum scientists to create exhibitions that "lead to enjoyable, informative, and social experiences for all ages".
This idea of family learning seems simple enough, and indeed, as one of the project leads, Lynn Dierking, points out: "it is challenging to think of any two words more difficult to define as separate terms". Families and learning go hand in hand. The first learning a child experiences is with his or her family. Here at the museum, our family guests learn about the exhibits together and continue their learning through our guided and self-guided tours throughout Coronado. (If you have not yet, please check out our self-guided smartphone tour of Irving Gill's buildings on Coronado. Visit coronadohistory.org/exhibits/irving-j-gill-coronado-refined/ for more information.) Families are learning about our unique village every day by exploring Coronado's history together.
When our museum staff embarked on planning our Spring 2017 exhibit, we knew we wanted to serve our family patrons and Coronado school children who visit every spring. The Transportation Family Learning Gallery will comprise of hands-on activity areas, displays of historic objects from the Museum's collection, and historical information for all ages. The gallery is designed to serve children, their families, and adults by presenting the story of Coronado's earliest forms of transportation. Certainly, the climate and geography of Coronado made our village an ideal vacation site; however, it also attracted aviation pioneer Glenn Curtiss and then the Navy. The Hotel del Coronado, Tent City, and North Island created the need for different types of transportation and even innovations in transportation right here on the island. Ferries, trains, trolleys, and airplanes helped form Coronado's distinct identity. As volunteer, Lorraine Roley said it best, "The roots of transportation in Coronado are grounded in the pioneering spirit and creative imaginations of the farsighted entrepreneurs who looked at flat, sandy scrubland and envisioned a resort community. Transportation services became part of the evolution of Coronado land development influencing the quality of life and the efficiency of movement across the island." We invite you and your family to join us as we journey through Coronado's transportation history and explore how it helped create the village we know and love today.
Christine Stokes
Director, Museum & Visitor Experience


The Museum presents thought-provoking exhibitions on a wide variety of subjects each year. Past exhibitions include Wings of Gold the Centennial of Naval Aviation, The Kingston Trio: A World of Music, and Inspired: 100 Year of Coronado Schools. Exhibition sponsorship is a wonderful way for you or your company to reach new audiences while demonstrating support of history and culture in Coronado. Each exhibition sponsorship package is customized depending on you or your company's sponsorship level, preferred recognition, and promotional goals. Examples of exhibition sponsorship benefits may include, but are not limited to, the following:
Invitations to the exhibition opening previews and events

Name or logo credit in all exhibition and program materials, including invitations, History Matters, signage, press releases, the CHA website, e-newsletters  and mailings to CHA members

Direct link between your website and the Coronado Historical Association website

Opportunity to host private receptions at the Museum's Lecture Hall

We are pleased to develop a customized

exhibition

sponsorship package for you or your company.  For more information, please contact me at cstokes@coronadohistory.org or 619.435.7242 x102.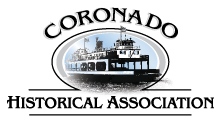 Become a member
We preserve and share Coronado's unique and wonderful history with intriguing exhibits and innovative programs for all ages.
MEMBERSHIP BENEFITS INCLUDE:
Free admission to the Museum of History & Art
Two complimentary tickets to our Hotel del Coronado Tour
Subscription to our quarterly newsletter, History Matters
...and much more!
Membership information