619.435.7242
1100 Orange Avenue, Coronado CA 92118
Without the help of volunteers, we could never accomplish all of CHA's goals!  Year-round, we have many great programs, events, and projects and can always use volunteer assistance.  Whether you have just a few hours per month or a lot of time to dedicate, we'd really like to talk with you about our current volunteer opportunities…
Coronado Historical Association Volunteers

---
Become a History Ambassador or Historic Walking Tour Docent!

We are currently seeking outgoing volunteers who love to share their knowledge of Coronado! Join our team of Ambassadors who provide Coronado hospitality and information to guests who stop by the Coronado Visitor Center or call us from all around the world or just around the block. Varied shifts and times are available. 
Coronado Heritage Tour
Share the heritage of historic Coronado with residents and guests. A 90-minute walking tour provided on Mondays, Wednesdays, Fridays, and Sundays at 10:30 am is a guided tour of Coronado's special times, people and places.
Private and Specialty Tours
Throughout the year specialty tours are planned. We also work with all sorts of groups to plan special engagement activities. Be a part of hosting these unique tours of Coronado Island.
---
Other Volunteer Opportunities
Administrative Offices
Clerical Assistance
Public Relations/Social Media Support
Membership/Development Assistance
Bulk Mail Assistance
Collections and Archives
Volunteers, Interns, and Interns seeking academic credit are welcome to inquire.
Artifact Cataloguing/Data Entry
Research Volunteer
Transcription of Oral History Interviews
Programs and Events
Museum Teacher/Education Assistant
Exhibition Receptions and Event Staff
Coronado Historic Home Tour (May)
To Learn More about Volunteer Opportunities Contact: info@coronadohistory.org
OR, fill out a Volunteer Application: https://www.volgistics.com/ex/portal.dll/ap?ap=214620785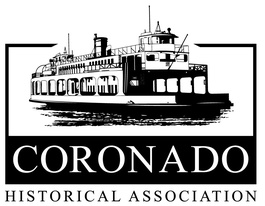 Become a member
Join us and help preserve and share Coronado's unique and wonderful history with intriguing exhibits and innovative programs for all ages.
MEMBERSHIP BENEFITS INCLUDE:
Two complimentary tickets to our Historic Walking Tour of Coronado
Invites to members-only events
...and much more!
Membership information