619.435.7242
1100 Orange Avenue, Coronado CA 92118

Dear CHA Friend,
Your past support of the Coronado Historical Association has been so essential over our 51-year history. With your
help and our shared dedication, appreciation, and passion for our unique history, CHA has continued on our mutual
mission of preservation and education. The safeguarding and appreciation of our unique history and culture has
persisted through these extraordinary and perilous times.
With the loss of income from the canceled events, lost museum admissions, and gift shop sales, surviving these state-mandated shut-downs has been a challenge. As you may have noted from recent news releases, museums and cultural organizations across California are struggling. Since the pandemic began back in March, CHA, just as many businesses, have been closed or operating at severely reduced capacity. The resulting loss in revenue meant an agonizing decision to reduce staffing and make drastic budget cuts in order to secure the future of our historical association.
CHA does an incredible job of incorporating the local community into everything it does. This year, we expanded
educational programs in Coronado's schools virtually, championed the preservation of our historic neighborhoods,
supported local businesses through our lunchtime "Bite of History" events, featured guest speakers on historical topics in our virtual lecture series, and professionally stewarded our vast historic collection. All of this would not have been possible without your generous support.
As we continue to navigate the unknowns of the pandemic and economic downturn, we are asking you, our most loyal
and dedicated supporters to ensure we continue to serve our community into the future. Thanks to dedicated
supporters like you, we can maintain our focus on Coronado. Only through your donations and help, can CHA survive
during the most challenging times in our 50-year history.
Please take the time today to join me and make your tax-deductible year-end gift to CHA's annual fund by clicking the button below. Thank you for your support.
Sincerely,
David R. Landon
Chairman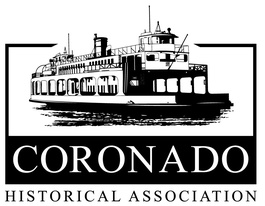 Become a member
Join us and help preserve and share Coronado's unique and wonderful history with intriguing exhibits and innovative programs for all ages.
MEMBERSHIP BENEFITS INCLUDE:
Two complimentary tickets to our Historic Walking Tour of Coronado
Invites to members-only events
...and much more!
Membership information