619.435.7242
1100 Orange Avenue, Coronado CA 92118
Curatorial Workshop: Caring for your Family Photographs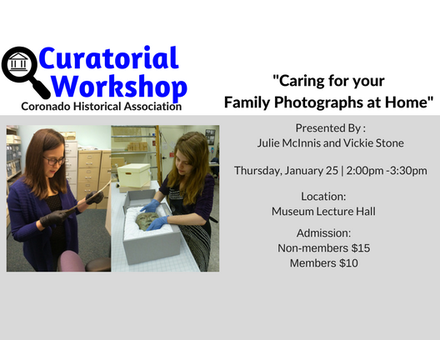 click to enlarge
The Coronado Historical Association Museum has over 22,000 historic photographs in its collection. The museum uses the best techniques to guarantee their preservation so that each photograph can be enjoyed by future generations. This workshop, led by museum professionals Vickie Stone and Julie McInnis, will teach simple and effective techniques to preserve your own family photographs at home. All attendees are encouraged to bring a few of their own photographs from home to use during the workshop.  Admission fee includes free materials to help you take care of your photographs at home.
Julie McInnis
Julie is an experienced conservation assistant. Prior to moving to San Diego in 2017, she worked for seven years for the Library of Congress in Washington, D.C. working to treat, house, archive, and document works on paper, photographs, bound materials, and 3D objects. She is currently working as a contract hire at the Natural History Museum in Balboa Park working with their historic map collection and assists the Coronado Historical Association Museum with their collection housing project, launched in December 2017. 
Vickie Stone, M.A.
Vickie is the Registrar & Curator of Collections at the Coronado Historical Association Museum. In her position, she promotes the prosperous history of Coronado through the care and preservation of historical artifacts in the museum's collection. She also assists local residents with historical research. Before arriving in Coronado, she worked with numerous history museum collections in Colorado, Alaska, and Indiana. Throughout her career, she has promoted collections scholarship through participation in various conferences and publications. Most recently, she co-authored a short piece with two catalogers from the Smithsonian's National Museum of African American History & Culture, that was published in the book Museums In Motion.  She has been the recipient of several awards, most notably the William M. Plater Civic Engagement Medallion.
---
Get tickets