619.435.7242
1100 Orange Avenue, Coronado CA 92118
Curatorial Workshop: Caring for your Family Textiles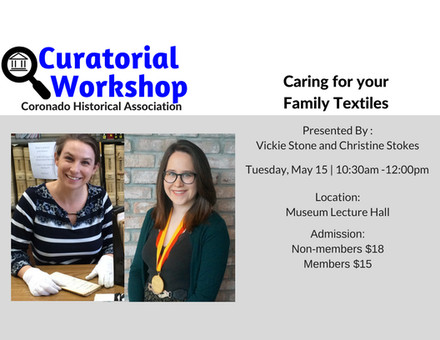 click to enlarge
The Coronado Historical Association Museum cares for historic textiles in its collection, including military uniforms, quilts, and early 20th-century clothing. The museum uses the best techniques to guarantee their preservation so that every item can be enjoyed by future generations. This workshop, led by museum professionals Vickie Stone and Christine Stokes, will teach simple and effective techniques to preserve your own family textiles at home and go over how to identify historic clothing and other textiles such as quilts. All attendees are encouraged to bring a photograph of their textiles at home.  
Vickie Stone, M.A.
Vickie is the Registrar & Curator of Collections at the Coronado Historical Association Museum. In her position, she promotes the prosperous history of Coronado through the care and preservation of historical artifacts in the museum's collection. She also assists local residents with historical research. Before arriving in Coronado, she worked with numerous history museum collections in Colorado, Alaska, and Indiana. Throughout her career, she has promoted collections scholarship through participation in various conferences and publications. Most recently, she co-authored a short piece with two catalogers from the Smithsonian's National Museum of African American History & Culture, that was published in the book Museums In Motion. She has been the recipient of several awards, most notably the William M. Plater Civic Engagement Medallion.
Christine Stokes, M.A.
Christine brings with her over ten years of professional experience in the museum field. She earned a BA in History with an emphasis in Public History from the University of California, Santa Barbara, as well as an MA in History Museum Studies from the Cooperstown Graduate Program, State University of New York. At Santa Barbara, Christine was the recipient of the Dick Cook Fellowship for her work in Oral History at the Santa Barbara Museum of Art. She also studied historic preservation and archaeology during a fellowship at Pembroke College at Cambridge University and French history and language at the Université Michel de Montaigne in Bordeaux, France. Christine went on to work for the Santa Barbara Trust for Historic Preservation as the Interpretation Manager for three years before she returned to graduate school. After graduate school, Christine studied American Material Culture at the New York Association of State History and completed a museum community fellowship at the International Coalition of Sites of Conscience in New York City. After three years in New York, Christine accepted the position of Executive Director of the Shasta Historical Society where she oversaw a collection of over 90,000 photographs and 3,000 objects, an extensive research library, museum, museum store, and a public-private contract with Shasta State Historic Park. As the Coronado Historical Association Museum Director, Christine provides leadership to achieve the museum's commitment to preserve and promote the history of Coronado. She has a passion for creating interactive and engaging exhibits and a commitment to growing emerging professionals. She serves as a Board Member of the California Association of Museums and as the Coronado Historical Association's representative on the San Diego Museum Council.
---
Get tickets