619.435.7242
1100 Orange Avenue, Coronado CA 92118
Hops + History: Letters from the War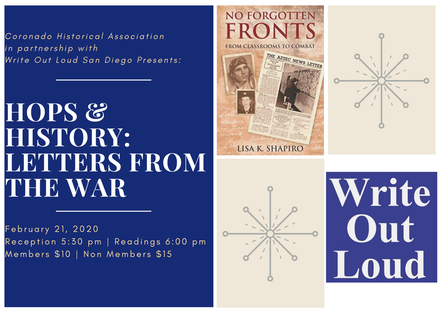 click to enlarge
Between 1941 and 1946, several thousand students and graduates of San Diego State College joined the armed forces and went off to war. Letters were written home by these servicemen and women detailing their wartime experiences will be shared during a reader's theatre performance at 6:00 p.m. on February 21.
Walter Ritter and Veronica Murphy, co-founders of the theatrical company Write Out Loud, will read from a script prepared by Jonnie Wilson, who in turn was inspired by the book No Forgotten Fronts: From Classrooms to Combat, by Lisa Shapiro. In her book, Shapiro relates the story of how one man—Dr. Lauren Post, a geography professor at San Diego State—became a lifeline to former students as they went off to serve in North Africa, England, France, the South Pacific, and wherever else the military took them. The 5,000 letters Post received from these young men and women during their four years away from campus are today housed in SDSU's Special Collections and University Archives.
Please join us to hear these poignant, humorous, nostalgic, and life-affirming messages from San Diegans who didn't know they would one day become "The Greatest Generation".
The "Hops + History: Letters from the War" will be held Friday, February 21st with a reception at 5:30 p.m. and the readings beginning promptly at 6:00 pm. This will be an evening for adults to enjoy wine and cheese as Write Out Loud San Diego shares their talents. Tickets can be purchased online at www.coronadohistory.org, at the Museum Store, or by calling (619) 435-7242.
---
Get tickets