619.435.7242
1100 Orange Avenue, Coronado CA 92118
Wine & Lecture: Attack Aviation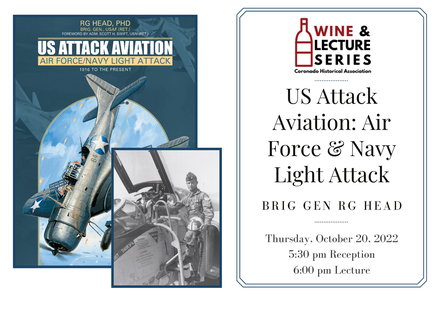 click to enlarge
The Coronado Historical Association invites you to the next lecture in the Wine & Lecture series: U.S. Attack Aviation: From the Red Baron to TOPGUN by Brig. Gen. RG Head. Attack aviation is intense and dangerous. It necessitates the direct engagement of ground and sea targets at low altitudes. Attack aircraft are usually specialized fighters or fighter-sized aircraft, with one or two engines and one or two crew. This work provides an overview history of American attack aviation from its inception to the present, including both the US Navy and Air Force. The pillars of the narrative are several case studies that characterize the evolution of technology and tactics over time: SBD Dauntless, AD Skyraider, A-4 Skyhawk, A-7 Corsair II, A-10 Thunderbolt II, and F-16 Falcon, F/A-18 Hornet, and F-35 Lightning II. Each of the cases contains first-person accounts that include a description of the aircraft's origin, competitive procurement, major attack features, and combat employment. Author RG Head (Brig. Gen., Ret.) has extensive experience in combat (325 missions, DFC, Silver Star),an in-depth understanding of doctrine (taught future pilots at the Air Force Academy), and gained first-person exposure to the policy and engineering aspects of the aircraft procurement process while serving at the Pentagon and later as a private consultant working in collaboration with the US Navy. This is a story about flying, told by Naval aviators, Air Force fighter pilots, and the men who built the airplanes the pilots flew.
Member ($15.00 each)
Non-Member ($18.00 each)
Reception at 5:30 pm, followed by 6:00 pm lecture. Doors open at 5:20 pm.
Important Registration Information: Attendance is restricted to fully vaccinated persons with a booster shot. Capacity is limited and reservations are required. No walk-ins will be admitted.
If you have any questions please email info@coronadohistory.org or call (619) 435-7242.
---
Get tickets