619.435.7242
1100 Orange Avenue, Coronado CA 92118
Wine & Lecture: Centennial Tales from the San Diego Zoo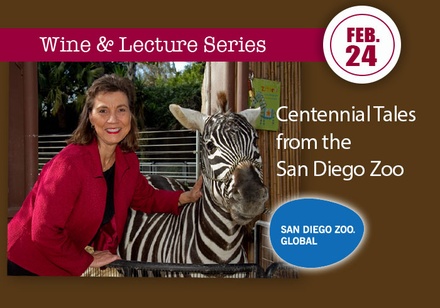 click to enlarge
Presented by the Coronado Historical Association, this upcoming "Wine & Lecture" features San Diego native Georgeanne "George" Irvine, Associate Director of Development Communications for the San Diego Zoo. Nearing 40 years with the San Diego Zoo, George has served in many capacities during her tenure with this beloved local institution. All of these capacities reflect the common goal of raising awareness about animals and wildlife conservation. 
A San Diego State University alumnus and founder of the Gordy Foundation, George is also the author of more than 20 children's books about animals. Her pasions include traveling, photography, storytelling and animals. George has traveled around the world and often leads international tours for the San Diego Zoo. Join us as we learn about the exciting life and career of remarkable San Diegan, Georgeanne Irvine. 
Tickets are $15 for members; $18 non members. 
Seating is limited and may not be available at the door. 
Reserve online at coronadohistory.org or call 619-435-7242 x103.
---
Get tickets