619.435.7242
1100 Orange Avenue, Coronado CA 92118
Wine & Lecture: Historic Homes Valuation Process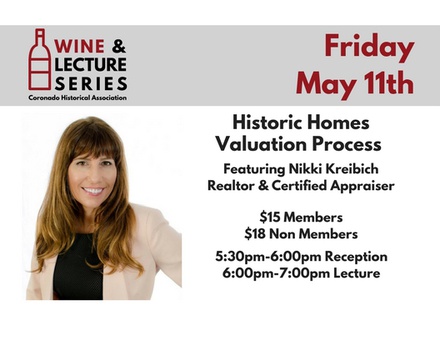 click to enlarge
The limited data and diversity of historic properties sold on Coronado present a unique challenge to the appraisal process. Nikki Kreibich has over 15 years of experience appraising residential properties throughout San Diego County. The last 5 years of her appraisal practice has focused solely on complex and architecturally significant properties, including 30 complex appraisal assignments in the City of Coronado. Nikki continues to maintain her Certification as an Appraiser. Although no longer practicing as an appraiser, she is now a Realtor with Pacific Sotheby's International Realty and enjoys sharing her expertise and knowledge with potential buyers and sellers.

Nikki's presentation will provide insight into the historic homes valuation process.
This lecture will provide: 1. an overview of the Mills Act Valuation, including the County Assessor's three practices to value when appraising properties for tax purposes; 2. a basic understanding of how the Mills Act designation may impact home market values, including local case studies; and 3. an overview of two approaches of value used in the appraisal process and how they are reconciled.
---
Get tickets