619.435.7242
1100 Orange Avenue, Coronado CA 92118
Wine & Lecture: "The Most Interesting Store In Town": Quon Mane & San Diego's Chinese-American Legacy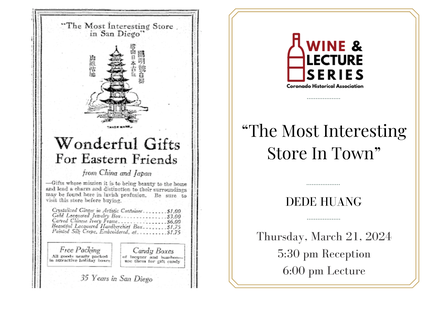 click to enlarge
The Coronado Historical Association invites you to the next lecture of our popular Wine & Lecture series. We will delve into the fascinating history of the Chinese-American experience of running a well-known, longtime establishment in San Diego. Established in 1888 and lasting nearly a century, Quon Mane's on Fifth Avenue purveyed porcelains, silks, and other so-called Chinese and Japanese "fancy goods". The store grew up with San Diego to become its premier Asian retail business, with branch shops in Coronado, La Jolla, and elsewhere.
In a presentation richly illustrated with images from the Quon family, the San Diego History Center, and the Coronado Historical Association, you will find out how businessman Quon Mane and his brothers contributed to the founding of the Hotel del Coronado, made connections with many of the city's biggest names, and gained a foothold in turn-of-the-century San Diego. During this presentation, you will also gain insight into what the Chinese-Exclusion era experience was like in San Diego and how it was both similar and different to the Chinese-American experience across California.
Important Registration Information: Capacity is limited and reservations are required. No walk-ins will be admitted.
If you have any questions please email info@coronadohistory.org or call (619) 435-7242.
---
Get tickets