619.435.7242
1100 Orange Avenue, Coronado CA 92118
Wine & Lecture: The Service Knows and Will Remember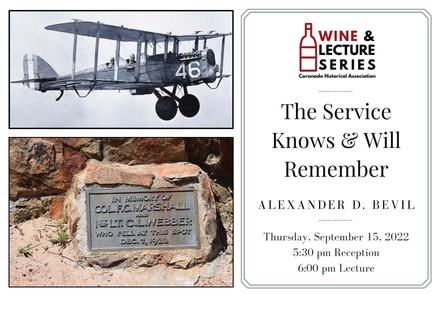 click to enlarge
The Coronado Historical Association invites you to join us for the next lecture in the Wine & Lecture series, The Service Knows and Will Remember: The Airplane Crash Site Memorial on Japacha Ridge. Local award-winning historian and preservationist Alexander D. Bevil will use historic photographs and maps to reveal a forgotten chapter in North Island's early military history: the search for missing pilot 1st Lieutenant Charles L. Webber, and his passenger, Assistant Chief of Cavalry Lt. Colonel Frances C. Marshall. The search, which lasted from December 7, 1922, to February 1923, was the largest and longest combined air and ground search in American military history during peacetime.
The presentation will also focus on the leadership role Rockwell Field's pilots and observers played flying outdated aircraft over forbidding mountain and desert terrain from San Diego to Tucson, Arizona. It will also discuss the role these men played in recovering Webber and Marshall's remains and the erection of the first of two monuments in their memory at the crash site. Two of these pilots, base commander Major Henry "Hap" Arnold, and Texas-based pilot Major Theodore C. Macaulay, would later play key command roles during World War II. After the war, Major Macaulay would serve as an active and well-respected member of the Coronado Civic Club and a local branch bank manager.
Member ($15.00 each)
Non-Member ($18.00 each)
Reception at 5:30 pm, followed by 6:00 pm lecture. Doors open at 5:20 pm.
Important Registration Information: Attendance is restricted to fully vaccinated persons with a booster shot. Capacity is limited and reservations are required. No walk-ins will be admitted.
If you have any questions please email info@coronadohistory.org or call (619) 435-7242.
---
Get tickets