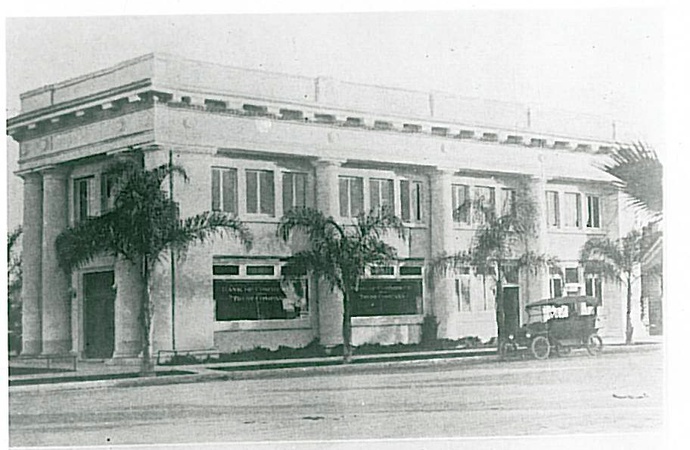 compiled by Cornelius O'Leary, CHA Volunteer

The Coronado Historical Association is located at 1100 Orange Avenue in a building that itself has been noted for its historic significance. Where better for
an organization dedicated to historic preservation.
This landmark building we admire today was designed by two San Francisco based architects, Kenneth MacDonald, Jr., and George Adrian Applegarth. The building is designated as a Special Element of the City's economic history as Coronado's first bank and for its association with G. Aubrey Davidson, bank president, and "father of the 1915 Panama-California Exposition". The building is the only work in Coronado of the renowned MacDonald-Applegarth collaboration. It was constructed in 1911 and designated as a Historic Resource in 2012.
The building serves as an example of the Neoclassical architectural style for which these architects were known. Applegarth and MacDonald incorporated many classical Beaux-Arts elements—rigid symmetry, perfect proportions, columned entries, and coffered ceilings— in the design of the new Coronado bank. George Adrian Applegarth was born in Oakland, California in October 1875 to John and Henrietta Sanders Applegarth. His parents were originally from England, immigrating to Canada and later to the United States. He graduated from Oakland High School and then went on to work as a draftsman for his uncle George Sanders from the firm of Wright & Sanders. George was then educated at UC Berkeley studying under Bernard Maybeck who encouraged him to train at the renowned École des Beaux‐Arts. He then went on to graduate from the École des Beaux- Arts in Paris in April of 1906. He returned to San Francisco to help rebuild the city after the devastating earthquake and fires.

In 1907 Applegarth formed a partnership with fellow architect Kenneth MacDonald which would last until 1912. They both trained at the École des Beaux-Arts in Paris, and collaborated on over 30 residences in San Francisco, including the palatial home of Adolph Spreckels, brother of Coronado entrepreneur John D. Spreckels. McDonald and Applegarth maintained a firm in San Diego at the Union Building during the years 1910 to1911, presumably to design and oversee the construction of their only two known projects in San Diego: the Edward T. Austin/McDonald – Applegarth House built in 1911 for San Diego resident Samuel Bingham and the Burnham and McMurtrie hotel building in 1910.
Applegarth's Beaux‐Arts influences of rigid symmetry, perfect proportions, columned entries, and coffered ceilings are seen in many of his residential designs. Many of his buildings were built in the Italian Renaissance style. In his later career, Applegarth looked at designing parking garages. Applegarth resided in San Francisco. He was a fellow of the American Institute of Architects and was even president of the San Francisco chapter for some time. Applegarth died at the age of 96 in January 1972. Kenneth MacDonald, Jr., son of Kenneth MacDonald, Sr. was born in Louisville, Kentucky in 1880 and began his career as a draftsman in his father's architectural firm. After finishing his education at the University of Kentucky he trained at the École des Beaux-Arts in Paris and moved to San Francisco in 1906. He was likely drawn to the city by the abundant work available after the San Francisco earthquake. In 1907 he would team up with George Applegarth. After his association with Applegarth ended MacDonald designed residential and commercial buildings in San Francisco as well as several buildings in Los Angeles.
Examples of some of his other projects include the Broadway Arcade and the Hill Street Garage in downtown Los Angeles in 1930, the home of Leo Kauffman in Santa Monica, the entrance to the Valhalla Cemetery in Burbank, and the Villa de Leon in Malibu. Kenneth MacDonald, Jr. died in Los Angeles in December 1937.
Architect biographies compiled through the use of:
Coronado Historic Resource Commission Agendas &Minutes
City of Coronado's Searchable Register of Designated Historic Resources
Coronado Designated Historic Resources Map
Biographies of Established Masters - City of San Diego 2011
California Digital Newspaper Collection
City of San Diego Historical Resources Board minutes
San Diego History Center website
Modern San Diego website
Legacy 106 website
Friends of San Diego Architecture website
California Historical Resources Inventory Database, City of San Diego
The AIA Historical Directory of American Architects
Save Our Heritage Organization
Internet Archive