619.435.7242
1100 Orange Avenue, Coronado CA 92118
Our top priority is the health of our community, staff, volunteers, docents, patrons, and visitors. The Coronado Historical Association is happy to announce that our galleries and store are open at the State of California mandated capacity levels Tuesday through Sunday, including research by appointment on Wednesdays and Thursdays. CHA continues to provide safe online shopping with curbside pickup and free Coronado delivery. Visit https://coronadohistory.org/shop/ to order.
Virtual programs and remote research services continue to be actively available. Our exhibit Coronado Responds: Student Art of the Pandemic is now open along with a virtual version of the exhibit. You can find more information about these initiatives on the Virtual Museum.
Like many cultural organizations around the country, CHA is experiencing significant revenue loss due to the pandemic. We need your support. Please consider making a tax-deductible donation to support the continued preservation of our community's history. Donate today at https://coronadohistory.org/donations/.
Hours
Research Center by Appointment Only
Wed & Thu 11 am to 3 pm
virtual services available
email: info@coronadohistory.org or call 619-435-7242

Museum Galleries & Store Open
Tuesday-Friday 11 am to 4 pm
Saturday & Sunday 11 am to 3 pm

Due to a recent increase in COVID-19 cases, the California Department of Public Health has mandated that everyone in California wear a mask in indoor public spaces.
Driving Directions
Take the I-5 to the San Diego-Coronado Bay Bridge/Highway 75
Do not stop at the toll booth, there is no longer a toll to cross the bridge
The speed limit immediately after the toll bridge is 30 miles an hour, so relax and adjust to Island tempo
Turn left on Orange Ave (this is MainStreet Coronado)
You will see the Museum just as Orange Ave begins to curve at 1100 Orange Avenue
Other Transportation Options
901 Bus: Take the 901 bus from Downtown San Diego over the bridge. The bus stops along Orange Ave as well as at Rotary Plaza; adjacent to the Museum. MTS schedule online.
By Ferry: The Coronado/San Diego Ferry leaves San Diego on the hour from 9am to 9pm, and from Coronado on the half hour from 9:30 am until 9:30 pm (10:30 on weekends). Ferry service also serves the Convention Center, departing the Coronado Ferry Landing every other hour starting at 9:15am until 8:15pm — weekends and special event schedules run later. Tickets may be purchased at each Ferry Stop. Call (619) 234-4111 or (800) 442-7847.
904 Bus: The 904 bus runs regularly from the Coronado Ferry Landing and Marriott to the Hotel del Coronado and City Hall with regular stops in-between, including one on Orange Avenue, in front of the Visitor Center at Rotary Plaza. The MTS schedule is online for more information.
Parking
Parking is available on Orange Ave, Isabella Ave and First Street. Most parking is free with a 2-hour limit.
Parking on residential streets is permitted during the day per posted placards.
It may take some time to find parking in the summer and during holiday periods, so arrive early. Parking on the east side of Orange Ave is often easier to find than the west side.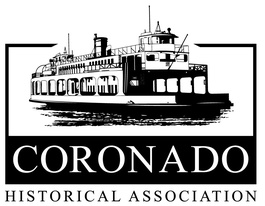 Become a member
Join us and help preserve and share Coronado's unique and wonderful history with intriguing exhibits and innovative programs for all ages.
MEMBERSHIP BENEFITS INCLUDE:
Two complimentary tickets to our Historic Walking Tour of Coronado
Invites to members-only events
...and much more!
Membership information