619.435.7242
1100 Orange Avenue, Coronado CA 92118

(Above) A group of Coronado women serving in the AWVS during World War II, an image from our popular 'Coronado on the Frontline' exhibit.
About Our Past Exhibits
Since its inception, the museum has featured changing exhibits on diverse subjects relevant to Coronado.  Recent topics have included Wings of Gold: Coronado and Naval Aviation; Visions of Coronado (a juried art show); Coronado on the Frontline: 1942-45; Kingston Trio: A World of Music; and 100+ Years of Coronado Yachting. 
John D. Spreckels: The Man | The Legacy
The man behind Coronado's early days was once called "Midas with a Yen for Jokes" by historian Theodore Fuller. He was a Transportation Tycoon and Family Man. Sugar Prince and News Mogul. John D. was a multifaceted polymath—a man with many sides both public and private.
As his celebrity rose, time engulfed knowledge of John D.'s personality and temperament. Revered, but not without controversy, his legacy is in our cultural heritage and architectural remnants. Today you can explore the many worlds of John D. as you become one of his identities. Who was the Man? What was his life like? And, what is his legacy?
Join the Coronado Historical Association for this interactive exhibit as you imagine yourself as one of John D.'s many complexions. See how his values and skill set changed Coronado as a growing city. Help make your own impact by stepping into his mind.
This exhibit and community-wide celebration are brought to you by Coronado Historical Association, Discover Coronado, Hotel del Coronado, Glorietta Bay Inn, Coronado Marriott, Loews Coronado, and the museum's many programming partners: Lamb's Players Theatre, KPBS Public Media, the Coronado Cultural Arts Commission, Coronado Village Middle  School, and the Coronado Public Library.   
Patrons to Painters 
This 2017/18 exhibit explored the art community of Coronado through a historical lens. Since the original lot sale in 1885, the arts flourished in this unique coastal village. From its beginning as a mecca for art patrons, Coronado evolved over its 132-year history into an artists community.  The turning point of this evolution is most evident in the mid-20th century. Here in Coronado, the sponsorship of artists during the Depression and World War II brought artists from all over the nation. After WWII, these artists such as Monty Lewis stayed. They defined an art community separate from San Diego and created the lasting fellowship that thrives today.
Stockdale: Character, Community and Leadership
In 2016, the Coronado Historical Association worked with the Stockdale family to present STOCKDALE: CHARACTER, COMMUNITY, LEADERSHIP. The exhibit detailed the extraordinary life and family story of Coronadan Vice Admiral James Stockdale, one of the most decorated and respected Navy officers of his era. Vice Admiral Stockdale was awarded the Medal of Honor for his "valiant leadership and extraordinary courage" during seven years as a POW. It also told the story of his wife Sybil Stockdale, who, while raising their four sons in Coronado during his long captivity, fought tirelessly with fellow wives within the community to bring their husbands home.  Sybil and many family members were on hand for the opening of the exhibit.
100+ Years of Coronado Yachting
Highlights included an Olympic Gold Medal in sailing won by Coronado native son Robbie Haines in 1984, a beautiful handmade wooden sabot designed and built by a local craftsman and a touch-screen video kiosk featuring recorded interviews with long-time Coronadans about their yachting and racing experiences. One special aspect of local yachting lore presented was how Coronado's iconic boathouse has metamorphosed over the years. 
The Kingston Trio: A World of Music 
In 2011, the Kingston Trio was awarded a Grammy Lifetime Achievement Award for their significant influence on folk, pop, rock and Americana music during the late 1950s and early '60s.  Many photographs, oral history interviews, performance clips and other video components helped shed light on this musical phenomenon, which paved the way for the next generation of musicians. Two of the Trio's members, Nick Reynolds and John Stewart, had close Coronado/San Diego ties that were explored in the exhibit.
Coronado on the Frontline: 1942-1945
What challenges and sacrifices did the residents of Coronado face during World War II? How did the war years change the community? Visitors were given a glimpse through a "window in time" to see how the town responded to the war effort after the bombing at Pearl Harbor. Little-known details about the courage and pluck of Coronado residents, and their considerable contributions to the war effort were brought to light.
Visions of Coronado
A juried art show displaying the work of local artists in a wide variety of media, materials and styles. All pieces were original art, completed within the prior two years, pertaining to Coronado.
Wings of Gold: Coronado and Naval Aviation
This exhibit, which celebrated 100 years of Naval Aviation in Coronado, featured rare photographs and documents such as an early pilot license signed by Orville Wright. An original pilot's uniform, the helmet of one the first female naval aviators and a national insignia that flew on aircraft from 1919-1940 are examples of other items that were also on view. One of the most exciting artifacts on display was a scale model of the original seaplane designed and built by Curtiss and flown off the shores of Coronado.
For more information or to speak to the curator of any of these exhibits, please contact cstokes@coronadohistory.org.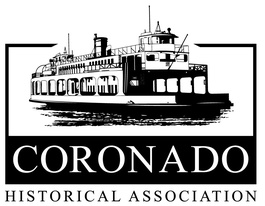 Become a member
Join us and help preserve and share Coronado's unique and wonderful history with intriguing exhibits and innovative programs for all ages.
MEMBERSHIP BENEFITS INCLUDE:
Two complimentary tickets to our Historic Walking Tour of Coronado
Invites to members-only events
...and much more!
Membership information