619.435.7242
1100 Orange Avenue, Coronado CA 92118

Private Group Tours of Historic Coronado
Private group tours of the Coronado Historic Walking Tour are available for groups of 10 or more people. These tours can be scheduled to your group's preferred time and date. To book your private group tour, please read the information below and submit a tour request. Requests must be submitted at least a month in advance. 
Historic Walking Tour
Join us on a walk of Coronado, where you will learn the beginnings of a unique travel destination and how it flourished to be the bustling town it is today. Through intimate stories of famous residents, growing businesses, and historic homes, you will gain perspective on Coronado's development. This stroll includes stops at the Coronado Museum of History & Art, L. Frank Baum's home (author of Wizard of Oz), and ends by at the Hotel del Coronado.
Duration: 90 minutes
Group Size: 10 people minimum, 17 people maximum per docent
Multiple docents are available for larger groups.
Cost: Adults: $20, Children (12 & under): $5
$200 minimum price per tour
Deposit: $200 non-refundable deposit due when the request is accepted
Final headcount and payment due 1 week before the tour date

Private Group Tours FAQs
How soon should I submit a request?
As soon as possible! Requests must be submitted at least a month in advance. 
Are tours accessible?
Tours include walking, standing, and stairs. However, we have alternate routes to avoid stairs. Please note any ways we can help with your request.
Do you offer tours in other languages?
We have docents that speak English and Spanish.
Do you offer hour-long tours?
Our regular tours are 90 minutes. 
Can we take photos/videos while on the tour?
Any photos or video clips taken during the tour are allowed only for personal use. Photos or videos taken for professional use must be approved of at least one week in advance. 
What is the cancellation policy?
In the event you must cancel your scheduled tour up to one week prior to the tour, you will receive a full refund minus the non-refundable deposit. Any cancelation within one week will require full payment.
What perks come with taking a tour?
Participants enjoy a 10% discount at the Coronado Historical Association Museum Store (1100 Orange Ave)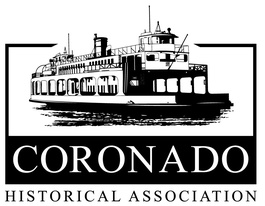 Become a member
Join us and help preserve and share Coronado's unique and wonderful history with intriguing exhibits and innovative programs for all ages.
MEMBERSHIP BENEFITS INCLUDE:
Two complimentary tickets to our Historic Walking Tour of Coronado
Invites to members-only events
...and much more!
Membership information