619.435.7242
1100 Orange Avenue, Coronado CA 92118

About the Collection
CHA's collection consists of thousands of documents, historical photos, three-dimensional artifacts, oral history transcripts, among other items that can't be found at other institutions. Additionally, CHA's non-circulating library has hundreds of books relating to Coronado.
Collections Highlights
Over 20,000 images in the photograph collection are available to search online. Reproduction prints are available for purchase, call 619-435-7242 to learn more.

The Stockdale Family Collection. Personal archives and artifacts from Admiral James Stockdale and his wife Sybil Stockdale; includes Admiral Stockdale's Prisoner of War smock and tin cup.

Manuscript archives. Personal papers, local government, business, social clubs, and organizations; notable examples include Katherine Carlin's personal notes and the Coronado Beach Company/Spreckels Company files.

Maps of Coronado. Sanborn Insurance maps, lot maps, railroad maps, bridge construction maps, and tree planting maps.

Early Navy UDT and SEAL diving equipment.

Architectural drawings. Residential, business, and city construction documents.

Artwork by Coronado artists

Oral history interviews and transcripts.
---
Digital Collection
Our entire photograph collection is available to browse online! High-quality reproduction prints are available. Use the "Request Image" on the photo thumbnail or call 619-435-7242 for reproduction information.
To search the online catalog, click here.
To order a historic print or ask for reproduction use, click here.
---
Research
Our collection is accessible to researchers through in-person appointments or for remote researchers, by request. For more information about research, click here.
---
Donations
Thank you for your interest in donating your treasures to the Coronado Historical Association. One of CHA's goals is to create the most comprehensive reflection of Coronado's community through artifacts and archives. Your donation could help CHA fulfill that goal!

CHA requires interested parties to contact CHA staff at 619-435-7242 or by email at info@coronadohistory.org to have items be considered by the Acquisitions Committee. Please do not drop off your item at the museum. CHA's staff and volunteers cannot accept unsolicited items.

Museum staff and the Acquisitions Committee assesses each item based on criteria such as relevance to CHA's mission and collection plan, whether it is in good condition, whether there is adequate storage space and other resources to care for that item into the future. The Committee's recommendation is considered by the Board of Directors who ultimately approve all collections items. CHA staff will notify you of the Board's decision and work to obtain formal documentation of ownership.

All donated material entering the Association's collections is subject to this process. Items that do not go through this process, such as items that are dropped off at the front desk, cannot legally be used by the museum in any way. CHA's staff and volunteers cannot accept unsolicited items. Abandoned, undocumented items cannot be exhibited, researched, or used in educational programs. We follow these procedures to be legally compliant and as part of the process for museum accreditation through the American Alliance of Museums. Your cooperation through this process helps CHA be the best historic stewards it can be.

Be assured, once items are in CHA's collection, CHA upholds the highest standards for the care of collections, which includes proper storage, thorough cataloging, and environmental monitoring. If you would like to support CHA's effort in preserving CHA's collections for future generations, consider donating to CHA.
---
Appraisals
The Coronado Historical Association cannot make appraisals regarding the monetary value of any item brought the museum for donation or for any other reason. The Internal Revenue Service regards museums and other cultural institutions as interested parties. Monetary appraisals prepared for donors by such institutions are subject to question or disqualification. The Association also cannot provide endorsement of an appraiser.  
To find a licensed appraiser in your area, contact one of the following organizations for a referral.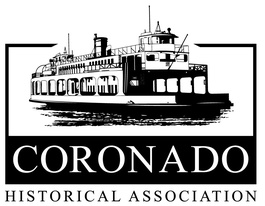 Become a member
Join us and help preserve and share Coronado's unique and wonderful history with intriguing exhibits and innovative programs for all ages.
MEMBERSHIP BENEFITS INCLUDE:
Two complimentary tickets to our Historic Walking Tour of Coronado
Invites to members-only events
...and much more!
Membership information