619.435.7242
1100 Orange Avenue, Coronado CA 92118

The Coronado Historical Association was established in 1969 by a group of concerned citizens with an eye toward saving the intriguing history of a unique community.
Their first goal was an inspired one ... to raise funds to save a Coronado ferry that had been retired with the opening of the Coronado Bridge.
When that goal proved to be beyond reach, the Association took on a stewardship posture, vigorously seeking artifacts, records, photos, and remembrances of Coronado's past.
Through exhibitions at a local bank, lectures, and Christmas Home Tours, the Association grew in membership, collections, and prestige. Soon, the association ranked as one of the largest of its kind in California relative to the size of its community. 
In 1987, the Board of Directors approved the purchase of 1126 Loma Avenue to house the first-ever permanent home for the Archives of the Association and a Coronado Museum. 
After 12 years of collecting and preserving Coronado's history, the Association's collection outgrew the historic house on Loma Avenue. In 1999, Don and Leslie Budinger began gifting the iconic historic Bank of Commerce building at 1100 Orange Avenue. This move would not have been possible without the visionary and philanthropic assistance of Mr. & Mrs. Budinger. 
Our building turned 100 in 2011, and recently received an historic designation from the Coronado Historic Resource Commission—the first ever by the Commission for a commercial building in Coronado. 
The move to the new building resulted in the creation of the Museum of History & Art. The Museum, which opened to the public in October 2000, houses the Museum's three exhibit galleries, a research library, state-of-the-art Archives, Museum Store, Tent City restaurant and an information desk.
Since its inception, the museum has featured both permanent and changing exhibits with subjects as diverse as Wings of Gold: The Centennial of Naval Aviation, Coronado on the Frontline (during World War II), Kingston Trio: A World of Music, and 100+ Years of Coronado Yachting. The organization's collection has grown to over 20,000 photographs, 1,400 artifacts, and thousands of archival documents. Our library serves as a research destination for local historians and citizens who have purchased historic homes in Coronado. We continue to identify, acquire and preserve artifacts and documents that fall within the scope of the museum. Taking its stewardship seriously, the Coronado Historical Association continues to identify ways to creatively present the history of Coronado through its collections, exhibits, and programs.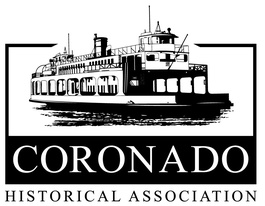 Become a member
Join us and help preserve and share Coronado's unique and wonderful history with intriguing exhibits and innovative programs for all ages.
MEMBERSHIP BENEFITS INCLUDE:
Two complimentary tickets to our Historic Walking Tour of Coronado
Invites to members-only events
...and much more!
Membership information