619.435.7242
1100 Orange Avenue, Coronado CA 92118
Permanent Exhibit

The Enchanted Island
The island of Coronado has always been a very special place - from the time many centuries ago when it was hunting and gathering grounds for the Native Americans to the present day when it serves as the home for over 30,000 lucky residents and guests. This wonderful climate and access to the sea also make it an ideal location for the US Naval Air Station, the birthplace of naval aviation one hundred years ago.
   This exhibit draws from the Museum's extensive collections, which includes art and ephemera from Coronado's unique history, and a collection of historic photographs of life in Coronado since the 1880s.

The Hotel del Coronado & Tent City
The Hotel del Coronado is the most recognizable structure in Coronado, and Coronado's history is closely intertwined with this National Historic Landmark. Tent City, which operated from 1900 to 1939 adjacent to the Hotel del Coronado, was a popular summer vacation resort for families from around the nation. Original objects used at the Hotel del Coronado, as well as dozens of photographs, are all part of the collection on view in this exhibit. Tent City documents include correspondence, Tent City News, photographs, programs, brochures, and postcards--all of which give the visitor a glimpse into Coronado's charming and enchanting past.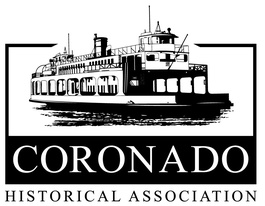 Become a member
We preserve and share Coronado's unique and wonderful history with intriguing exhibits and innovative programs for all ages.
MEMBERSHIP BENEFITS INCLUDE:
Free admission to the Museum of History & Art
Two complimentary tickets to our Historic Walking Tour of Coronado
Invites to members-only events
...and much more!
Membership information