619.435.7242
1100 Orange Avenue, Coronado CA 92118
Employment Opportunitiies
Coronado Historical Association
Coronado Museum of History and Art
Registrar / Curator of Collections
The Coronado Historical Association, www.coronadohistory.org, seeks a full-time Registrar/Curator of Collections.  This person will be responsible for the organization, management, and care of the museum's permanent and loaned collections. This includes the organization and maintenance of orderly forms, legal documents, files and retrieval system associated with acquisitions, accessions, deaccessions, cataloging, loans, packing, shipping, customs, inventory, insurance, and storage; the management and maintenance of the museum's collections management system; and overseeing all shipping arrangements.
In addition, this position will work under the Director of the Museum and Visitor Services to interpret the collections; implement an ongoing temporary exhibition program; develop and implement a long-term interpretive plan; develop and deliver programs related to the collections and exhibits; work with staff to develop and maintain a Volunteer and Internship program; work museum special events; assist with front desk coverage when needed; maintain communication with appropriate parties regarding maintenance issues; maintain effective working relationships with local/regional groups having a similar or complementary mission; and keep abreast of current trends in the museum field.
Work Environment and Physical Demands:
This job requires use of professional office equipment, standing or sitting for long periods of time and lifting up to 30 pounds without assistance. The work duties include lifting and reaching over the head.
Position Type/Expected Hours of Work:
This is a full-time, non-exempt position with the ability to work a varied schedule as needed.
Preferred Education or Experience:
Bachelor's degree from an accredited college or university in history, art history, museum studies, arts administration, library sciences or a closely related field and four years of verifiable museum registration experience (including internships). Master's degree from an accredited college or university preferred.  

Computer literacy in a computerized registration system, ideally Past Perfect.

Excellent customer services skills

Ability to manage projects and details with accuracy

Excellent written and oral communication skills.

Ability to contribute in a team environment.

Send Cover Letter and Resume as one PDF Document entitled YourLastName_Registrar.pdf by March 17, 2017 to employment@coronadohistory.org Attn: Registrar/ Curator of Collections. No phone calls, please.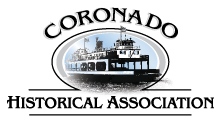 Become a member
We preserve and share Coronado's unique and wonderful history with intriguing exhibits and innovative programs for all ages.
MEMBERSHIP BENEFITS INCLUDE:
Free admission to the Museum of History & Art
Two complimentary tickets to our Hotel del Coronado Tour
Subscription to our quarterly newsletter, History Matters
...and much more!
Membership information