619.435.7242
1100 Orange Avenue, Coronado CA 92118
A View from the Periscope

 

Exhibit Now Open!

Drawn to its sleek yet hidden shape, artists have long tried to capture the mystery of the submarine and the adventurous crews who risk underwater combat. 
The Coronado Historical Association (CHA) is pleased to announce the opening of the "A View from the Periscope" exhibit on July 30, 2022. 
The exhibit unveils "A View from the Periscope" through the artist's eye. Twenty-eight pieces of artwork from the Naval History & Heritage Command's Navy Art Collection are on loan to CHA for the duration of the exhibit. The artworks are diverse in medium and age, but all prominently feature historic submarines commissioned in the U.S. Navy. Some of the notable artists whose works are featured in the exhibit include: Griffith Baily Coale (1890–1950), Georges Schreiber (1904–1977), Albert K. Murray (1906–1992), John Charles Roach (born c. 1943), Salvatore Indiviglia (1919–2008), and Dante Bertoni (1926–1993). Many of the artists featured are affiliated with the Navy's Combat Art Program, which places artists on board navy ships on duty and in combat. 
The exhibit also celebrates the little-known role Coronado and its sailors played in submarine history. CHA worked with the City of Coronado's Avenue of Heroes Committee as well as local residents to identify submariners with a Coronado connection. Efforts to identify important submariners to highlight in the exhibit has been so successful that twenty-two submariners were featured at the opening of the exhibit and an additional twenty-four are planned to be added. 
The exhibit is presented in partnership with the Naval History & Heritage Command and the San Diego History Center. Funding for this exhibit is provided in part by the City of Coronado's Community Grant Program.
The museum galleries are open Tuesday - Friday from 10 am to 4 pm and Saturday - Sunday from 10 am - 3 pm. The exhibit has been extended through January 2023.
___________________________________________________________________________________________________________________

The Museum presents thought-provoking exhibitions on a wide variety of subjects each year. Past exhibitions include Wings of Gold the Centennial of Naval Aviation, The Kingston Trio: A World of Music, and Inspired: 100 Year of Coronado Schools. Exhibition sponsorship is a wonderful way for you or your company to reach new audiences while demonstrating support of history and culture in Coronado. Each exhibition sponsorship package is customized depending on you or your company's sponsorship level, preferred recognition, and promotional goals. Examples of exhibition sponsorship benefits may include, but are not limited to, the following:
Invitations to the exhibition opening previews and events

Name or logo credit in all exhibition and program materials, including invitations, History Matters, signage, press releases, website, e-newsletters  and mailings to members

Direct link between your website and the Coronado Historical Association website

Opportunity to host private receptions at the Museum's Lecture Hall
We are pleased to develop a customized exhibition sponsorship package for you or your company.  For more information, please contact Christine Stokes at cstokes@coronadohistory.org or 619.435.7242.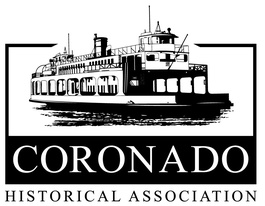 Become a member
Join us and help preserve and share Coronado's unique and wonderful history with intriguing exhibits and innovative programs for all ages.
MEMBERSHIP BENEFITS INCLUDE:
Two complimentary tickets to our Historic Walking Tour of Coronado
Invites to members-only events
...and much more!
Membership information