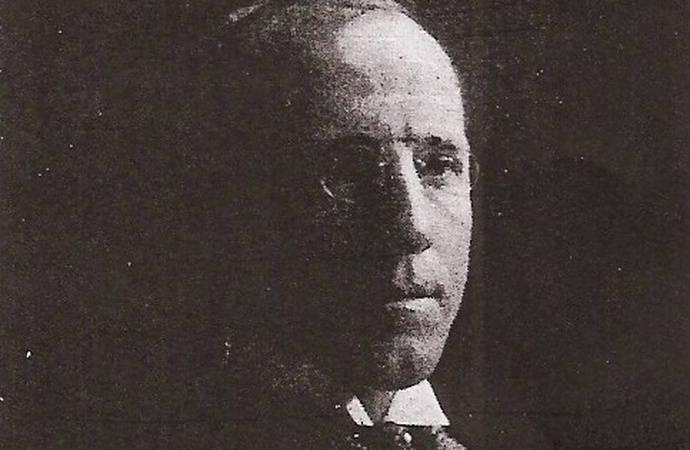 Elmer Grey
compiled by Cornelius O'Leary, CHA Volunteer

Elmer Grey was born on April 29, 1872, in Chicago, Illinois. He was educated in the Milwaukee public schools but did not attend college and worked as an apprentice for a Milwaukee architectural firm from 1887 to 1899. He eventually moved to California and in 1903, formed a partnership with Midwestern architect Myron Hunt, building their reputation by designing fine residences for the wealthy of Pasadena.
From 1907 to 1908, Hunt & Grey designed a Beaux-Arts mansion for railroad and finance magnate, Henry Huntington, in San Marino which would later become the Huntington Library and Art Gallery. In 1911, they began plans for the new campus of Occidental College in the Eagle Rock district of Los Angeles. They also designed several structures for Claremont College and a master expansion plan for Pomona College. After their partnership dissolved in 1912, Grey went on to design such landmarks as the Pasadena Playhouse, the Beverly Hills Hotel, and the Lincoln Shrine in Redlands.
In 1925 Grey was involved in his only design in Coronado, a house at 1241 Alameda Boulevard. The home was designed by Grey and constructed by builder William L. Carr. The home serves as an example of the Spanish Colonial Revival architectural style. It was designated by the city as a Historic Resource in 2002. Elmer Grey is credited with being a pioneer in the development of the new American architecture in the early 20th century. He was also a noted artist whose paintings are in the permanent collection of the Chicago Art Institute.
Elmer Grey died on November 14, 1963, in a Pasadena mansion he had built for himself.
Architect biographies compiled through the use of:
Coronado Historic Resource Commission Agendas &Minutes
City of Coronado's Searchable Register of Designated Historic Resources
Coronado Designated Historic Resources Map
Biographies of Established Masters - City of San Diego 2011
California Digital Newspaper Collection
City of San Diego Historical Resources Board minutes
San Diego History Center website
Modern San Diego website
Legacy 106 website
Friends of San Diego Architecture website
California Historical Resources Inventory Database, City of San Diego
The AIA Historical Directory of American Architects
Save Our Heritage Organization
Internet Archive