619.435.7242
1100 Orange Avenue, Coronado CA 92118
Board of Directors and Staff
Executive Committee
Jane Braun, President

Jami Teagle-Burgos, Vice President

Keith Fargo, Treasurer

Sara Wells, Secretary
Directors

Debbie Bell
MJ Crow
Brad Gerbel
Sue Gillingham
Katy Bell Hendrickson
Susan Keith 
Carrie O'Brien
Becci Rocco
Kelly Sarber
Jim Strickland
Gina Tapper
Elizabeth Wampler
Art Wilcox                                                                                                                                                                     
Kitt Williams
Fiscal Year 2017-2018 Director Nominees
CLAUDIA E. GALLANT
Claudia brings to the board a career in public education experience, with skills in preschool through grade 12 curriculum and assessment development, District and non-profit strategic planning and facilitation, grant writing, teacher evaluation, and public speaking.
With a bachelor in Spanish and extensive post-graduate studies mostly in literacy, Claudia taught grades K-5 (Spanish, drama, general) at Coronado's Christ Church Day School then Village Elementary School for 26 years.  She served as a district coordinator, assistant principal, and ultimately the senior director of learning for the Coronado Unified School District for the last seven years.  In that role, she oversees all preschool to grade 12 classroom instruction and assessment, educational programs, and strategic planning.
Retiring in June, Claudia is newly appointed to the Coronado Schools Foundation Board. Her professional involvements have included local planning council (CUSD and Naval Base Coronado), Coronado Human Relations Commission, Greater San Diego Reading Association, Association of Supervision and Curriculum Development.  A long-time Coronado resident, she has lived in San Diego for the past six years and maintains her active involvement in the Coronado community.


EDRY NADDOUR GOOT
Edry brings to the board diverse skills / experience in retail management and ownership, counseling, historic resource preservation, and interior design.  Her education includes an associate degree in interior design (Scottsdale Community College), a BA in psychology (Arizona State University), and a Masters in Counseling (University of Phoenix).  
For 15 years, Edry was a retail store manager then district sales manager for Foxmoor Casuals, covering 15 retail stores in four states.  Following work as an assistant store manager for Sakes Fifth Avenue, she owned her own clothing and shoe store in Scottsdale.  Upon completion of her master's degree education, she was a marriage and family counselor in private practice for 14 years.  Since 2004, she has been semi-retired as an interior designer.  She currently serves as a Commissioner on the Coronado Historic Resource Commission.
MARVIN HEINZE
Marvin brings to the board extensive experience in military leadership, service on multiple non-profit boards and several architectural and historic resource review boards, and diverse community involvement.  Marv is a 28 year Navy veteran who served as Chief of Staff for Sixth Fleet and commanded Explosive Ordnance Disposal Group one and EOD Mobile Unit Two.  Currently he is the Homeland Defense Advisor and Deputy for Operations and Plans in the Navy's Mine Warfare Task Force.
Marv currently serves as Chair of the Coronado Planning Commission.  He has served on the Board of the Community Emergency Response Team (CERT), the Street Tree Committee, the Board of Directors of the Coronado Cays Homeowners Association, and as secretary and treasurer of the Silver Strand Chapter of Military Officer's Association of America.  In other communities, he served on the Architectural and Historical Review Commission (Benicia CA), the Historic Resources Commission and the  Historical Restoration and Preservation Commission (Alexandria VA). His education includes a Bachelor of Science in Architecture, a Master's degree in Mechanical Engineering and numerous national security related programs.
Marv is also an Adjunct Professor with National University, on the Advisory Board for the USO of San Diego, a Committee Member of the San Diego Bowl Games Association, Chairman of the Pacific Regional Advisory Council of the National Parks Conservation Association, and a consultant in homeland security matters. He has been a Coronado resident for 29 years, now living in the Coronado Cays.


ANN McCAULL
Ann brings a strong background in organization, planning and research skills, city government/management, historic preservation and the Mills Act, and volunteer fundraising.  Employed by the City of Coronado for 16 years (ending 2015), she developed and managed the City's Historic Preservation Program (general ordinances, policies,  ordinances, and applications for the Mills Act Program), managed the historic public communications, and participated in education and outreach efforts (Flower Show, City parks, workshops, managed Orange Avenue Corridor Specific Plan, Silver Strand Beautification, etc).  
Ann has a Bachelor of Arts degree in urbans studies and planning from UCSD. She is active as a special events/fundraising volunteer and is a member of American Planning Association and Association of Environmental Professionals.  
TOM MITCHELL
Tom brings to the board extensive community involvement, a love of history and experience as a Coronado history docent, and leadership in youth and adult organizations.  A graduate of Auburn University, he was a career Naval officer and aviator for 27 years.  Assigned to Coronado with his family, he was actively supported the Coronado High School sports programs as president of the All Sports Booster Club, Water Polo Booster  Club, and Boys' Basketball Booster Club.  He has been active at St. Paul's United Methodist Church on numerous committees and teaching Sunday School and continues today as chairman of their Staff Parish Committee.
Upon retiring from the Navy, Tom worked as a Fed Ex pilot for 13 years.  Throughout this time, he continued to serve the Coronado community.  For almost 20 years he has been a Hotel Del Coronado Docent, both when the hotel had its own tour program and now through Coronado Historical Association.  He is the president of the Rotary Club of Coronado and president of his homeowners association.  


MARGARET ESKE ZOEHRER
Margaret brings to the board experience in cultural arts and museum experience, (homeowner) board leadership, and community involvement.  Raised in El Centro, Margaret studied English and French at the University of San Diego.  After travelling the world as the wife of a Naval officer, she settled in Coronado where she has lived for 31 years.  Experienced in the field of culture and the arts, she has been a docent at the San Diego Museum of Art for the past 20 years.  As Chair of Docent Training (for two years), she provided general training as well as specialty training in the Asian arts.  She is also a docent emeritus at the Timkin Museum of Arts, where she was a docent for 15 years, stopping to focus on the San Diego Museum of Art. 
Having served on The Landing Homeowners Association for 5 years, she has been its president for the past three years.  She is an active member of Sacred Heart Church, where she coordinates the lectors and weekday ministers.  She is also involved with the PEO Chapter UD (an organization throughout the US that supports women's education, including owning a college and providing millions of dollars in scholarships).  
Staff
Rebecca Baker, Director of Finance & Administration  
Katelynn Estrada, Director of Membership & Membership Engagement
Christine Stokes, Director of Museum & Visitor Experience  
Vickie Stone, Registrar & Curator of Collections                                                                                              
Kimi Moore-Macias, Manager of Visitor & Community Programs 
Jewelee Rossi, Assistant Store Manager

Sedna Villavicencio, Museum Associate II
Rosa Petroulias, Museum Associate I

Laurie Moose, Museum Associate I
Kara Adams, Administrative Assistant
Current Opportunities:
Click Here for our employment page.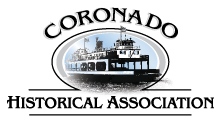 Become a member
We preserve and share Coronado's unique and wonderful history with intriguing exhibits and innovative programs for all ages.
MEMBERSHIP BENEFITS INCLUDE:
Free admission to the Museum of History & Art
Two complimentary tickets to our Hotel del Coronado Tour
Subscription to our quarterly newsletter, History Matters
...and much more!
Membership information