619.435.7242
1100 Orange Avenue, Coronado CA 92118
Board of Directors and Staff
Executive Committee
Jane Braun, President
Art Wilcox, Vice President
Brad Gerbel, Treasurer
Sara Wells, Secretary
Directors

Claudia Gallant
Edry Naddour Goot
Marvin Heinze
Katy Bell-Hendrickson 
Susan Keith
Tom Mitchell
Kelly Sarber
Jami Teagle-Burgos
Kitt Williams
Margaret Eske Zoehrer
Staff
Robin MacCartee, Executive Director
Christine Stokes, Museum Director  
Vickie Stone, Registrar & Curator of Collections 
Tanya Aubin, Development Coordinator
Paola Deguzman, Community Education Coordinator
Denisse Cuervo, Community Engagement Coordinator
Samantha Murphy, Administrative/ Programs Coordinator

Museum Associates                                                                     
Kara Adams, Museum Associate Coordinator
Laurie Moose
Lyn Leader
Rosa Petroulias

Current Opportunities:
Click Here for our employment page.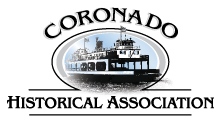 Become a member
We preserve and share Coronado's unique and wonderful history with intriguing exhibits and innovative programs for all ages.
MEMBERSHIP BENEFITS INCLUDE:
Free admission to the Museum of History & Art
Two complimentary tickets to our Hotel del Coronado Tour
Subscription to our quarterly newsletter, History Matters
...and much more!
Membership information