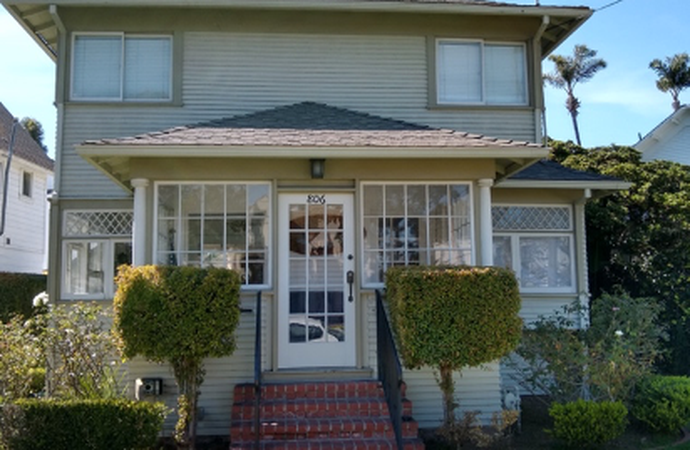 By Kimball Worcester, CHA Volunteer
Coronado has benefitted from, indeed began with, architecture that drew admiration and applause. The obvious first was the Hotel del Coronado. The lure of a felicitous climate proved irresistible to artists, athletes, literati, and aesthetes. Coronado residents proved strong patrons of the building growth on the island from the late 19th-century through the early 1930s. Those years were the heyday of "old" Coronado architecture.
Herbert Louis Jackson combined his structural engineering expertise with the design brilliance of Richard Requa to produce renowned houses and buildings throughout San Diego County. A number of those houses still stand in Coronado (e.g. 1244 Alameda; 1313 Tenth; and 1212 Sixth, the last of which Jackson himself was the first owner).
Jackson was born in 1867 somewhere in Ohio (it's all he gives us in the census records).
Our next sighting of him is in 1887 when he graduated from Swarthmore College with a degree in structural engineering. In 1890 he was married, in New York, to Emma Cole. The couple came to Coronado in 1909 and Jackson joined Mead & Requa in 1915, having worked independently up till then. Only in 1920 was Jackson promoted as Requa's official partner.
Throughout the 1920s and the early '30s Jackson contributed to some outstanding examples of vibrant post-WWI Southern California architecture in Coronado. The construction of the Walter Neill house at 1313 Tenth, for example, was commented on in the Coronado Journal on October 12, 1926, as "The Southern California style of architecture splendidly exemplified" and that "In the design of the building a number of interesting and unusual features will be noted, many of which , were obtained by Mr. Requa on his recent tour of Spain."
Upon Requa's retirement in the mid-1930s, Jackson partnered with Sam Hamill and created the Del Mar Fairgrounds and Racetrack.
Herbert and Emma Jackson seem to have a had quite a predilection for Adella Ave. They lived first at 806 Adella, as noted on the 1910 Census.
Four years later their address, according to the Swarthmore College Register of 1914, was 901 Adella, where they remained at least through 1918. Voter records of 1926 show them living at 839 Adella, where they stayed until both their deaths. Herbert died in 1948 and Emma in 1950. They left no children, but the legacy of Jackson's 39 years in Coronado holds strong to this day in brick and mortar, lath and plaster.