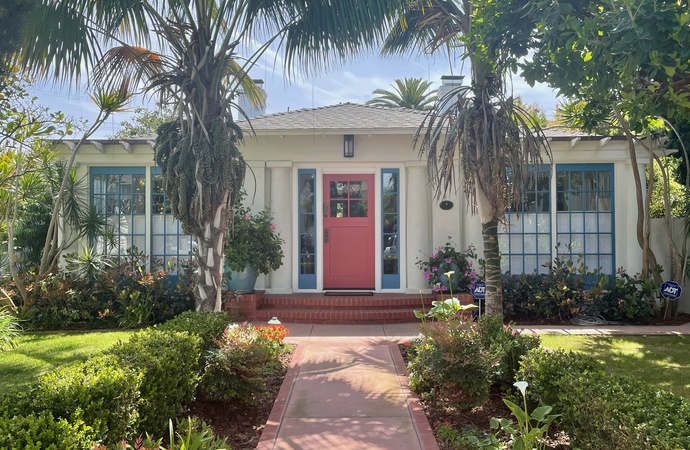 Hurlburt, Frank & Slaughter
compiled by Cornelius O'Leary, CHA Volunteer
The firm Hurlburt, Frank and Slaughter was formed in the 1920s and included Ralph E. Hurlburt, Ralph L. Frank, and James Slaughter. Frank was the firm's primary architectural designer. Frank designed and planned while Hurlburt sold the houses.
The firm designed and built several houses throughout San Diego for high-end clients including Rueben H. Fleet, Percy J. Benbough, mayor of San Diego from 1935 to1942 and C. Arnholt Smith. What distinguished the Hurlburt, Frank and Slaughter-designed and built houses was the marriage of architectural design with fine quality construction and high fashion interior design.
Ralph E. Hurlburt was born in 1888 in Nebraska. He was trained by his grandfather in the construction trade. In 1916, he married and relocated to San Diego. Upon arrival, he was involved in real estate financing and law and later transferred to architectural design. Hurlburt worked both with the firm of Hurlburt, Frank, and Slaughter and partnered with Charles H. Tifal on several projects until shortly before his death in 1942.
Ralph L. Frank was born in Kansas in 1898, and arrived in San Diego in 1920. Prior to an established partnership, Frank maintained his own office, and worked for Ralph E. Hurlburt. By the mid-1920s, Hurlburt and Frank teamed with Jim Slaughter to form Hurlburt, Frank and Slaughter, a design-build firm. Hurlburt, Frank and Slaughter were responsible for the development of the Marston Hills Tract in San Diego, along with a number of high style homes in San Diego. Frank continued to be associated with the firm until the mid-1940s. Frank died, at age 66, in April of 1964.
Little information is known about James Slaughter. It appears that he was responsible for the construction aspect of the firm and completed the designs created by the architects.
Hurlburt, Frank, and Slaughter's only known work in Coronado is the house at 855 Alameda Boulevard which was built in 1936. The home was designated as a Historic Resource in 2015 as an example of the French Eclectic architectural style.
Architect biographies compiled through the use of:
Coronado Historic Resource Commission Agendas &Minutes
City of Coronado's Searchable Register of Designated Historic Resources
Coronado Designated Historic Resources Map
Biographies of Established Masters - City of San Diego 2011
California Digital Newspaper Collection
City of San Diego Historical Resources Board minutes
San Diego History Center website
Modern San Diego website
Legacy 106 website
Friends of San Diego Architecture website
California Historical Resources Inventory Database, City of San Diego
The AIA Historical Directory of American Architects
Save Our Heritage Organization
Internet Archive