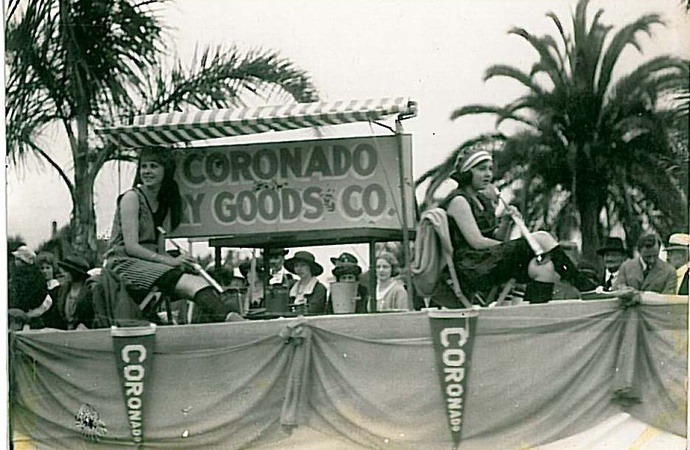 In Coronado, the Fourth of July has long been a celebrated day. Beginning in 1888, Coronado residents proudly displayed their patriotism and spirit with floats, bunting, and fireworks. Under the watchful eye of Dr. F.G. Powers, Grand Marshall of the Parade, Coronado's first Fourth of July Parade was a spectacle to behold.
Nearly every business along Orange Avenue contributed a float to the parade. The Brick Company created a float to demonstrate the process of making bricks, the Broom Factory displayed various types of brooms, and the Hotel del Coronado's Natural History Museum included a float with a mounted rhinoceros, a lion, and a bear. Popular consensus named the Beach Company's nursery float the most beautiful.
These floats and others processed up Orange Avenue, around Star Park Circle, to Loma Avenue and ended at the Hotel del Coronado's front entrance. Nearly 11,000 people watched the parade including 400 Los Angeles residents who travelled down to watch the spectacle. As the floats drew up in front of the Hotel del Coronado, the Grand Marshall, Dr. Powers, led the crowd into the Theater Room for a display of historical sketches, patriotic songs and speeches. From there, a fantastic fireworks display wowed visitors.
Since the very first Fourth of July Parade, Coronado has celebrated America's Birthday with an annual parade. Themes have varied from "America's Heritage" in 1975 with the marathon run to begin the festivities to "Music of America" in 1986 honoring the 100th Anniversary of the Statue of Liberty. Though the circumstances are different this year, we enjoy remembering the past and looking forward to future parades!