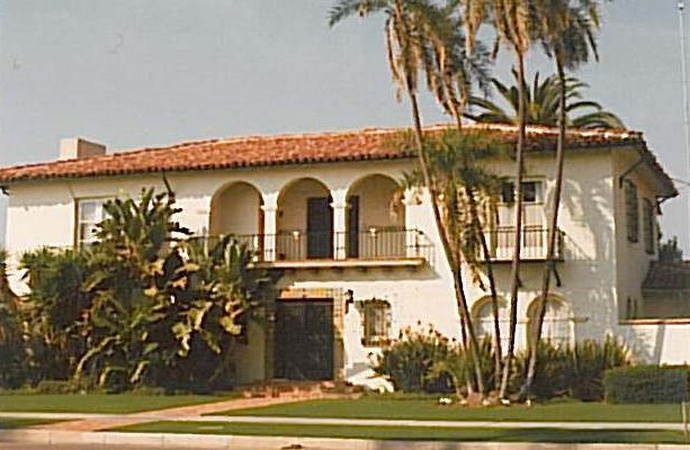 Edgar Ullrich
compiled by Cornelius O'Leary, CHA Volunteer
Edgar Ullrich was born in Colorado Springs in 1893. He attended Colorado College and, by 1923, was a practicing architect. He relocated to San Diego in 1924 to take a commission by Isabel Hopkins to design the Casa de Manana resort hotel. After this project, Ullrich was charmed by San Diego and decided to stay permanently. Between 1924 and his death in 1958, he designed many homes in La Jolla and throughout San Diego. Although he is known to have designed in the Tudor Revival and French Norman styles, he primarily worked in the Spanish Eclectic or "Mediterranean" style. An artist by nature, Ullrich emphasized color coordination in his designs.
During the course of his career, Ullrich designed numerous homes in the city of San Diego. He designed more than twenty-five major buildings in La Jolla including churches and academic buildings, some of which are designated locally and one of which is listed on the National Register. For his contributions to the city of San Diego, he was designated a Master Architect.
Ullrich's only work in Coronado was the house at 1015 Loma Avenue which was built in 1926. The home was designated as a Historic Resource in 2004 for its association with significant individuals the Pickford and Peltier families and as an example of the Mediterranean architectural style. In constructing the house Ullrich collaborated with the builder A. M. Southard.
Ullrich died in 1958.
Architect biographies compiled through the use of the following resources:
Coronado Historic Resource Commission Agendas & Minutes
City of Coronado Searchable Register of Designated Historic Resources PDF 12/10/19
Coronado Designated Historic Resources Map
Biographies of Established Masters - City of San Diego 2011
California Digital Newspaper Collection
City of San Diego Historical Resources Board minutes
San Diego History Center website
Modern San Diego website
Legacy 106 website
Friends of San Diego Architecture website
California Historical Resources Inventory Database, City of San Diego
The AIA Historical Directory of American Architects
Save Our Heritage Organization
Internet Archive