619.435.7242
1100 Orange Avenue, Coronado CA 92118
A Timeline of Coronado History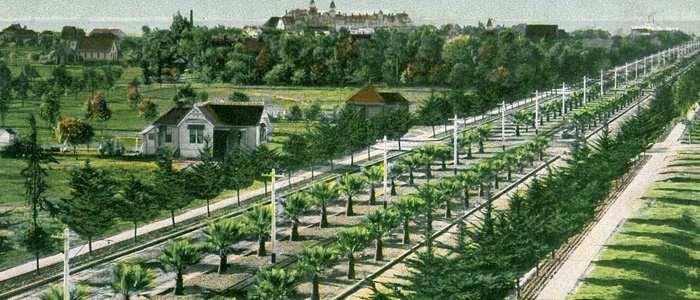 1000 Years Ago: Archaeological excavations have uncovered numerous shell mounds and Native American sites scattered along the Coronado peninsula, along with arrowheads and other evidence of Native American presence. They may have been seasonal visitors to Coronado in search of food and other materials. It's likely these early La Jollan Indians, or their successors, fished, hunted game, and collected wild berries and other edible plants on Coronado.
1542: Under the Spanish flag, Juan Rodriguez Cabrillo lays claim to the port he called San Miguel (now known as San Diego).  His crew explores the bay and the long peninsula that protects it and probably sought water from nearby springs on North Island.
1602: Spanish explorer Sebastian Vizcaino sails past the four rocky islands 17 miles off the San Diego coast and names them Las Yslas Coronadas. He enters the bay and renames the site San Diego de Alcala. His crude map of the bay provided the world with its first picture of Coronado.  No other European visits the area for another 167 years.
1769: Threat of Russian encroachment on western North American soil prompts the Spanish government to send several land and sea expeditions to occupy California. On July 7, 1769, San Diego, the first city in California, is founded.
1846: The American era begins in San Diego and Coronado with the arrival of the the American sloop-of-war CYANE under the command of Commander Samuel Francis DuPont who captures the city at the beginning of the Mexican War.

1846: Coronado peninsula is deeded to Pedro C. Carrillo and his bride Josefa as a wedding gift from Mexican Governor Pio Pico. A few months later Carrillo sells the land to American Bezer Simmons for $1,000 in silver. A series of rapid changes in ownership of Coronado occur over the next few years.
1850-70s: In 1855 part of the peninsula is leased for agriculture experiments in growing wheat and barley.  Whaling companies establish whale processing triworks at both Point Loma and North Island.  Shore whaling was quite profitable, long boats would row out beyond Point Loma and intercept migrating whales along the coastline and tow their prey into the bay for processing.
1851: The first formal survey is taken of San Diego Bay and Coronado by the American survey vessel ALERT.
1867: The first topographical map of the land of Coronado is required by the state. The total land area is determined to be 4,185.46 acres.
1880s: The rapid growth of California is fostered by the completion of the railroad. Health seekers, the unemployed, real estate promoters, merchants, and tradespeople come to California in large numbers.
1885: Coronado sold! Businessman Elisha Babock, Jr. and Hampton Story and their partners purchase Coronado peninsula for $110,000. The deal is finalized November 19, 1885. Three weeks later Story's steam launch Della sails to Coronado, pulling a barge with 40 Chinese laborers to begin work developing the peninsula.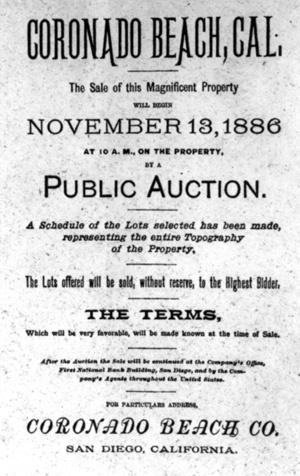 1886: The official map of Coronado is recorded in San Diego and the first lot sale on November 13 attracts 6,000 prospective buyers. Bidding starts at $500 and goes as high as $1,600. Lot sales help fund the building of the Hotel del Coronado.
Orange trees are planted down the center median of Orange Avenue. 
The Coronado Water Company, owned by Babcock and Story, runs 12" pipes under 3,000 feet of San Diego Bay in order to ensure a fresh water supply for Coronado. 
Workers start construction on a street railway system to carry a 50-seat excursion car and steam locomotive.
Coronado Beach Company builds a dance pavilion and bandstand, and provides free concerts at the beach.
The new steam powered, side-paddle ferry Coronado makes its first run. At a cost of $15,000, the ferry could carry 600 people and 13 horse teams.
Babcock and Story – joined by partners Gruendike, Ingle, and Collett – file articles of incorporation for the Coronado Beach Company, formalizing their development plans.
1887: Groundbreaking ceremony for the Hotel del Coronado.
Construction begins on a causeway crossing the Spanish Bight and connecting North Island to the rest of the peninsula.
E.J. Johnson receives a deed to operate an ostrich farm on "A" Avenue between 8th and 9th Streets. The farm was operated both as a tourist attraction and as a source for feathers.
1888: The Hotel del Coronado, the largest resort hotel in the world at that time, opens only 11 months after groundbreaking. 
1889: John D. Spreckels, son of San Francisco "Sugar King" Claus Spreckels, purchases all of the Coronado Beach Company holdings for $500,000. Except for privately owned lots, Spreckels owns all of Coronado, North Island, the hotel, the ferry, the trolley, and water systems. 
1890: Coronado residents vote to incorporate on December 6, thereby switching to governance by a local Board of Trustees. 
Guests of the Hotel del Coronado use North Island for jackrabbit hunting.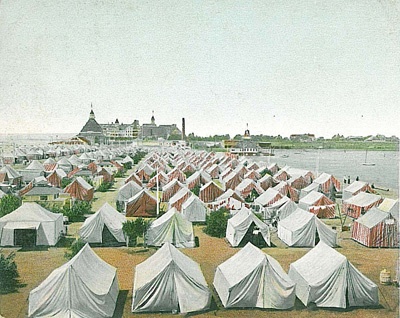 1900: Spreckels starts Tent City, a self-operating city of several hundred tents and thatched roof cottages south of the Hotel del Coronado. Tent City flourishes for nearly 40 years, until its closure in 1939 to make room for the highway.
1901: Fort Pio Pico is established at North Island as a coast defense port. 
1904: Lighting of the large Norfolk Island Pine at the entrance to the Hotel del Coronado, the first electrically lit outdoor tree in the United States.
1906-1907: In response to the severe storms of 1905, Coronado's ocean wall is built with 67 tons of rock hauled from the Sweetwater Valley.
1908: The U.S. Navy's "Great White Fleet," on a worldwide tour approved by President Roosevelt to show military strength, visits San Diego and Coronado. Sixteen battleships anchor in Coronado Roads right off the Del with more than 16,000 sailors on board.
1911: Famed aviator Glenn Curtiss leases North Island (rent free!) as a place to experiment with his newly developed seaplane.  He flies the world's first seaplane from Spanish Bight and convinces the Navy to establish their first aircraft squadron making North Island the "Birthplace of Naval Aviation."
Henry and Rudolph Riis lease 200 acres of farmland four miles south of Tent City for raising hogs and other animals near the town garbage dump. The "Hog Ranch" is flooded out and deserted in 1916.
1914: Opening of Tent City breaks all prior records as 10,000 people arrive.
1915: Noted moviemaker Siegmund Lubin charmed Coronado when he secured a five-year lease, at $1.00 per year, from the Spreckels Beach Company with the intent of building a motion picture studio. After a dramatic opening in October 1915 and making about 20 films and documentaries in Coronado, the studio closed its doors one year later.
1917: Congress passes a Condemnation Act to acquire the 1,232-acre North Island as a permanent military aviation school and base. After several years of litigation the U.S. government pays the Spreckels Company $5 million for the land.
1919: Dirigible hangar is christened. Silent screen stars attending the ceremony include Lillian Gish and Mary Pickford.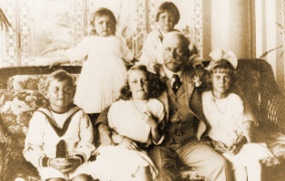 1920: Twenty–six year old Edward, Prince of Wales, creates the social event of the year with his April visit.
1926: John D. Spreckels dies, ending an era in Coronado. The Spreckels Company files articles of incorporation to split into three companies.
1927: Charles A. Lindbergh departs for New York from North Island; from there he undertakes the first transatlantic flight to Paris.
1936: The SS Monte Carlo, San Diego's "floating pleasure palace," is launched and offers fine dining, dancing, and gambling. The 300-foot long refurbished freighter, anchored off the coast of Coronado, is grounded along the Silver Strand by a heavy storm on December 31. Hundreds of vacationers watch the ship break up, even wading in for souvenir roulette wheels, tables, and other gambling items. The ruins are still visible at low tide.
1936: After joint tenancy of North Island since 1917, the Army leaves and the Navy expands its operations to cover the whole island.
1945: Coronado's population is 25,382 – up from 6,932 before the war.
The Spanish Bight, the water that separated North Island from Coronado, is filled in to allow room for more building to ease WWII congestion.
1948: The Hotel del Coronado is sold by the Spreckels Company to Barney Goodman of Tuscon, Arizona.
1952: Fifty-two cedar trees are planted in the Orange Avenue median as memorials funded by private individuals.
1955: Golf course opens on Glorietta Bay; the 137 acres needed for the course created through dredging.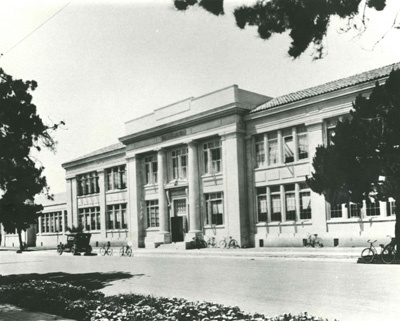 1960: Thirty-eight year old Coronado High School is demolished; voters approve a $1.25 million bond issue to fund a new school.
1961: Aircraft carrier Kitty Hawk (CV-63) arrives in Coronado after the channel was deepened to receive her, the first supercarrier homeported here.
1967-1969: Dredging of San Diego Bay and construction of the San Diego–Coronado Bay Bridge begins. The bridge is dedicated on August 2, 1969, with Governor Ronald Reagan providing the dedication address.
1971: The first tower at the Coronado Shores Towers, is completed.
1972: President Richard Nixon holds the first State Dinner outside of the White House at the Hotel del Coronado.
1973: Coronado residents who had been Viet Nam Prisoners of War return home.
1983: The "Baby Del" is moved across the bay, via barge, to its current location at 1144 Isabella Avenue.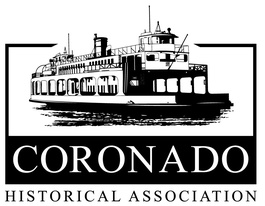 Become a member
Join us and help preserve and share Coronado's unique and wonderful history with intriguing exhibits and innovative programs for all ages.
MEMBERSHIP BENEFITS INCLUDE:
Two complimentary tickets to our Historic Walking Tour of Coronado
Invites to members-only events
...and much more!
Membership information