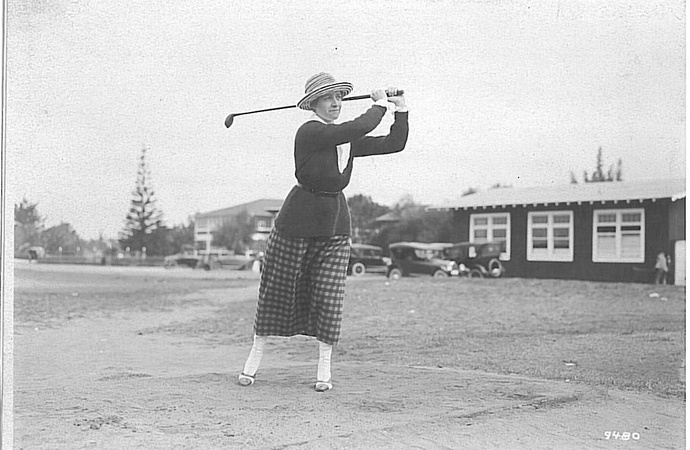 Above: A golfer takes a swing. c. 1918. Coronado Historical Association Collection. 1900.41.01-09.
Coronado's Rich Golfing History Is A Prism Through Which Fashion Flourished
Among its many other offerings as a resort city, Coronado has a storied golfing history, and the municipal golf course is a jewel in the city's crown. Indeed, as the Coronado Times notes, you can track the history of the city through its love for the Scottish sport. As with many historical events, changes in the sport itself have had an impact on other historical tracts. One such area is fashion, and golfing trends have had a significant impact on how local and regional folk present themselves.
The female game
Golf has always been a trendsetting sport when it comes to female inclusion - perhaps surprisingly, given the historical status of the golf course as a place for men to network and do business. Coronado has a rich history of champion female golfers, from Ada N Smith back in 1902 to today's Kaitlyn Ellis, recently lauded in CalGolfNews for her exploits between Coronado and the nearby Woodhaven Country Club. With these conquests has come great agency over fashion.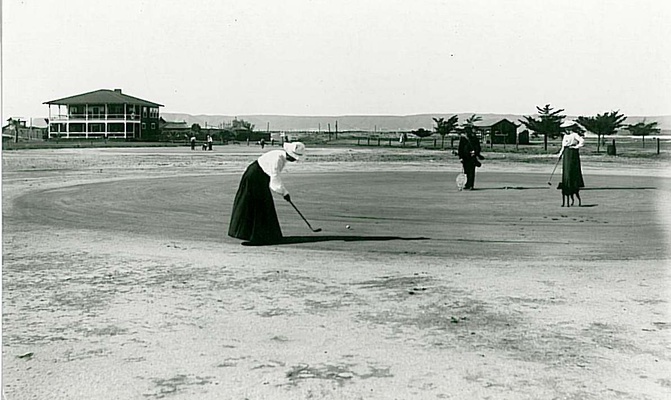 Coronado golfers on the links. Date unknown. Coronado Historical Association Collection. 1900.41.01-24B.
Pictures from the 1800s and early 1900s show women playing golf in huge, blanketing dresses -  hardly the best for a warm day on the links. However, by the 1920s and 1930s, women across the world could be seen taking new directions with their style, starting at the top. Wigs and long, expensively assembled hair was replaced by short, slick cuts, using rudimentary but effective styling tools of the day to keep everything tight and in order.
The style
With that style came yet more leaning into what might reasonably be seen as masculine territory. Dresses (famously set down in precedent by Mary, Queen of Scots, back in the 1500s), were replaced by pleated skirts and then trousers; turtleneck tops replaced overly flowing blouses. Perhaps a precursor to the liberalized fashions and styles of the 1920s and 1930s that would give rise to more freedom. Golf gear was essentially became street wear in this age, and it's interesting that the court would be a precursor to the street.
Raising the hem
As Scottish Golf History highlights, it was during this time that golfers like Joyce Wethered made higher-hemmed skirts popular, further increasing comfort and also using golf as a way to show how clothing could be made for style and comfort. These lessons were embraced and expanded on by one of San Diego's brightest stars - Mickey Wright - a PGA hall of famer. Aside from her skill, Mickey Wright did a huge amount to help with attitudes. Her use of relaxed, stylish, and flexible golf course wear, including in her later career shorts and vests, helped to boost her profile and that of female golf everywhere.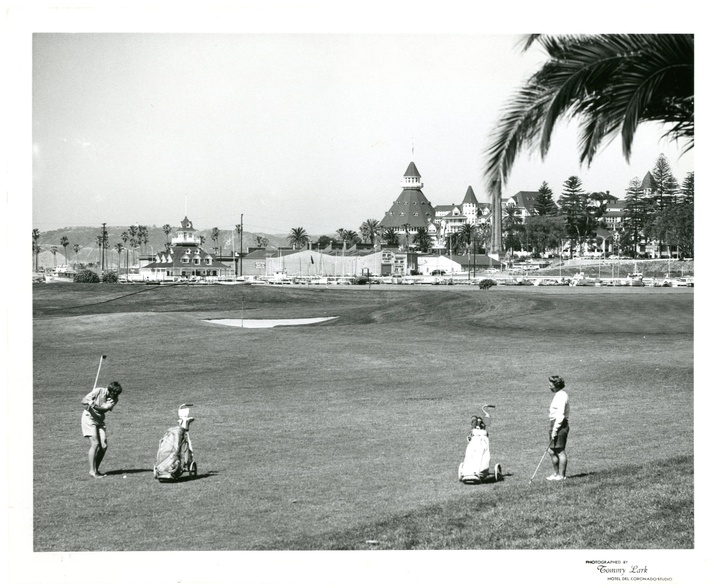 The Coronado Golf Course by Tommy Lark. c.1950s. Coronado Historical Association Collection. 2018.21.113.
Just as golf has helped to shape history in San Diego and Coronado in particular, so too has it shaped the history of fashion. This is particularly the case for women, who have had huge advances in making golf comfortable for themselves while out on the links.
About the Author:
Nina Morrison is a passionate writer who enjoys covering a variety of topics because it allows her to explore different subjects, broaden her knowledge, and engage with a diverse range of readers. By delving into various subjects, she can challenge herself creatively, experiment with different writing styles, and expand her expertise in multiple areas. Writing about various topics keeps her curious and intellectually stimulated, preventing monotony and allowing her to continually learn and grow as a writer.