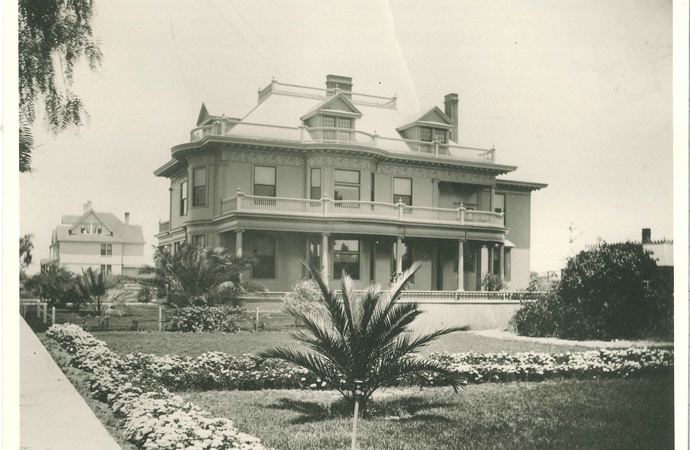 A History of the Hinde House
Historically known as the "Hinde House," but known today as the Kirk House at Graham Memorial Presbyterian Church, the property at 959 C Avenue has a history longer than the Hotel del Coronado. Read the excerpt below to learn more about its history. From the
Historic Research Report for Nomination for the City of Coronado Historic Resource Designation (2018)
.
"In 1886, riverboat Captain Charles T. Hinde and his wife Eliza built their first home on C Avenue in Coronado. In 1887 the Hindes commissioned James William Reid and his brother Merritt Jonathan Reid, architects of the world-famous Hotel del Coronado, to design a completely new structure around the original facade of the mansion. The design resulted, in part, from plans that Eliza Hinde suggested.
In 1891, the Reid brothers departed San Diego for San Francisco to develop another architectural firm. A Reid associate, Michigan-born maverick architect William Sterling Hebbard, took over the San Diego operation. Hebbard supervised the Hinde home remodeling until its completion in 1895. The clean lines, large open porches with Ionic columns, and third-story wraparound frieze suggest Hebbard's esthetics rather than those of the Reid brothers.
Captain Hinde died in 1915, but his home remained in the family until 1927. The Hinde house then became home to many after a new owner converted it into a hotel and boarding house known to locals as the Mrs. Robison Ritz Hotel.
When owners again put the house and its seven lots on the market in 1953, Graham Memorial Presbyterian Church purchased it and renamed the residence Kirk House. Kirk is the Scottish word for church.
Kirk House became a storage building, offices, and residence to the church sexton. Then it filled church needs as a Sunday school until 1969 when the current Center for Christian Education took the place of the former carriage house on an adjoining church campus tot. Second-floor renovation began at Kirk House soon after in 1970, and, in 1974, the young women's Friendship Circle paid for a new kitchen floor.
In 1975, the Coronado Historical Association designated Hinde House a historical landmark and issued an official brass plaque, now mounted on the house near the main front entrance. Second- and third-floor remodeling began in 1982. Members of the Graham Memorial Friendship Circle personally continued renovating the parlor and pastor's study, removing several coats of paint down to the original wood, sanding it, and then refinishing it. Then they furnished the rooms with case goods and upholstered pieces whose design reflects the Victorian era.
In its centennial year, 1987, the home exterior went under the same meticulous renovation, including the burning off of repeated coats of paint, installation of new deck floors and 2,300 new balusters and railings that run along the many porches.
Today, the first floor is a suite of offices taken by the pastor and church staff. The parlor frequently becomes the meeting place of church business committees and spiritual-growth groups, Kirk House second and third floors are the pastoral family residence. During the Christmas season each year, the family opens its festively decorated home to the congregation for an evening of fellowship, food, and church-family fun."

Learn more about the Kirk House and its architecture at the Graham Memorial Presbyterian Church's website.