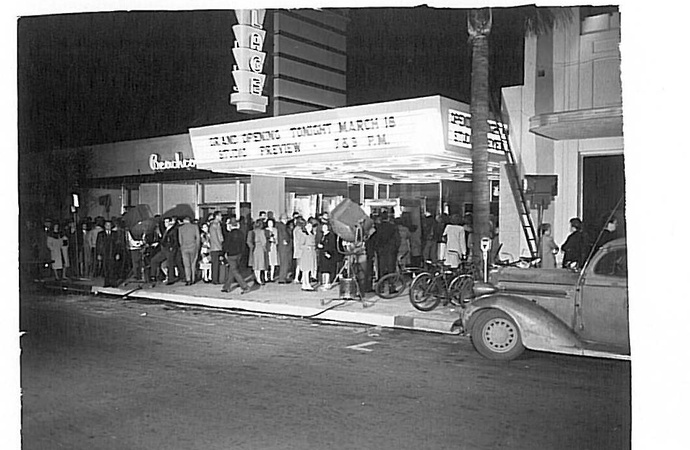 Village Theater by CHS Intern, Paloma Ronis von Helms
The Coronado Village Theater is a prominent historic landmark that is near and dear to the hearts of many locals. While the theater that stands today is not exactly the same as the original building, it retains much of the small-town charm that it held in the mid-to-late 20th century.
The Village Theater first opened its doors in 1947. It made its debut with a double feature of "Irish Eyes are Smiling" and "The Well-Groomed Bride," which premiered in technicolor. The theater would remain a center of town activity, with its lively atmosphere attracting crowds steadily for the next 40 years. Local residents have fond memories of the theater, recalling instances in high school when they would attend the theater on dates, purchasing a ticket and popcorn with just a quarter in the 1950s. During the theater's peak, it had considerable popularity as a hangout spot for Coronado's youth. Kids of all ages would flock to the theater for various sources of entertainment, including live talent shows, raffles, and free matinees. There was also a soda fountain adjacent to the theater for moviegoers to enjoy as a part of the experience.
Unfortunately, by the turn of the century, the theater had taken a turn for the worse and was largely neglected by its owners. In 2000, it had been practically abandoned and remained this way for the next ten years. This occurred within the larger context of multiplexes becoming the norm for movie audiences, structures that would likely not perform well in a town the size of Coronado. Throughout the first decade of the 21st century, various restoration projects on the theater were discussed but none came to fruition until 2010, when the Los Angeles based Vintage Cinemas worked with the City of Coronado to take on the project. Designer Joseph Musil who had reconstructed El Capitan Theatre in Hollywood worked on the renovation. While he had completed most of his designs, Musil sadly passed away before he could see his vision realized.
In 2011, the revamped Coronado Village Theater opened with the premiere of the film "Cars 2". It retains its original Art Deco theme on the interior. While the original theater featured one room and sat 600 people, the renovated theater has three showing rooms, with its main room seating 215. The main room features artistic renditions of both the Coronado and San Diego Skyline, as well as other landmarks such as the Bay Bridge and the Hotel del Coronado. The other two rooms have 38 seats, respectively, and showcase murals of the famed San Diego Exposition of 1915 as well as San Diego's Balboa Park. The murals were hand painted by Bill Anderson, a Disney muralist. Both new residents and locals who remember the original, quaint theater greatly appreciate the Coronado Village Theater as a lively source of activity and entertainment on the island.