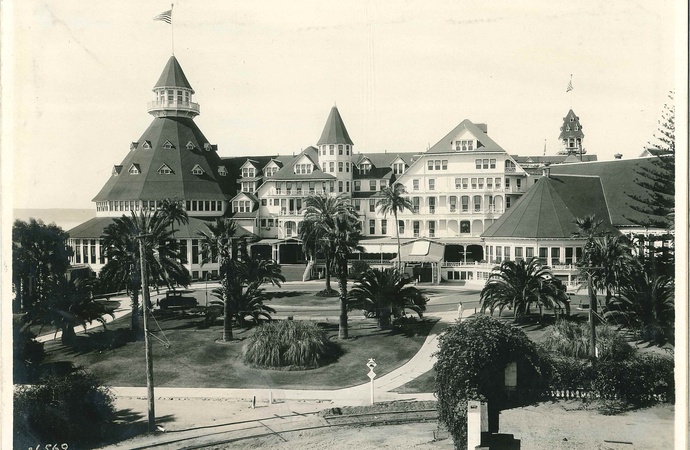 By Annie Holland
In 1888, the marvelous Hotel Del Coronado was built by entrepreneurs Elisha Babcock and Hampton Story. The hotel only took eleven months to build and was one of the biggest buildings in the country to have electricity at the time. In the beginning, a room in the hotel only cost about $2.50, roughly $63.00 today. When the hotel opened it had approximately 399 rooms and many amenities that have since been replaced with more modern forms of entertainment. Some of these amenities included; a salt water pool, a Japanese tea garden, an ostrich farm, and some bowling alleys. The Hotel Del also had its own railway that ran through the property to accommodate those who came by train. It was the largest hotel resort in the world when it opened and is now the second largest wooden structure in the whole United States. The hotel was an architectural wonder of the time and is still beautiful to this day.
There has been a local legend from a century ago that one of the rooms in the Hotel Del is "haunted". The idea was created after there was an unfortunate death of a young woman named Kate Morgan. Morgan was a mysterious visitor who was supposedly waiting for her husband to arrive when she took her own life. The myth that her ghost has been haunting a room in the hotel has been discussed among young and old for generations. To this day many people visiting Coronado or long time residents puzzle over Kate Morgan's death and question if the story of her ghost is true.
The Hotel Del has hosted many presidents, royals, and celebrities, as well as having been the site of various movies over the years. So far sixteen presidents have been hosted at the Hotel Del and twelve movies have been shot there. One of the most famous movies ever shot at the hotel was "Some Like it Hot," starring Marilyn Monroe. "Some Like it Hot" was a particularly interesting shoot as some locals were able to stand in the background and play extras. Among the star-studded guests, Edward, Prince of Wales and King Kalakaua of Hawaii are just a couple royals that have also had the pleasure of staying at the renowned hotel. The Hotel Del Coronado was and still is an attraction to those that admire its magnificence and beauty.
The Hotel Del is now a beacon of elegance to local Coronado residents. Many locals and tourists are able to share beachfront views and stunning poolside glimpses of the Pacific Ocean. The ice skating rink during the winter is also a great way for everyone to have fun and watch the sunset over the gorgeous red towers of the hotel. With the rich history of the Hotel Del Coronado many are drawn to the still-standing sign of the past and are given a new perspective on the future.