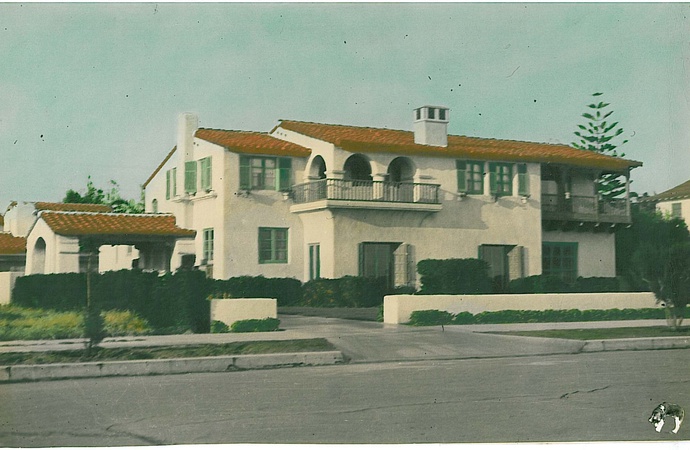 compiled by Cornelius O'Leary, CHA Research Volunteer
Richard S. Requa and Herbert L. Jackson were two of the early twentieth century architects practicing in San Diego. Requa has previously been highlighted in the virtual museum for his specific accomplishments throughout Coronado.
Jackson began his career as an engineer and would formalize a partnership with Requa in 1920 upon the dissolution of Requa's partnership with Frank Mead. Requa provided the skills of a designer, while Jackson applied his knowledge of engineering and structural materials. They would team together on numerous buildings throughout San Diego and Coronado.
Jackson graduated from Swarthmore College in Pennsylvania with a degree in structural engineering. He then worked for a railroad company in the Midwest. He moved to San Diego in 1909 working as an independent architect before joining Requa Mead & in 1915. Officially partnering in 1920, Requa and Jackson designed some of the most notable interpretations of the Southern California style in San Diego, Rancho Santa Fe, and Coronado. Known as the 'structuralist' Jackson was the perfect complement to Requa and together they became the 'architectural firm of choice' to the affluent and business clients.
The 1920s proved to be Requa and Jackson's most prolific period. They would team together on several Coronado residences including 1127 F Avenue, 619 Ocean (pictured above), 1007 Ocean Blvd, 1045 Loma Avenue, 1038 E Avenue, 801 Tolita, 1010 Olive, 815 and 875 Alameda Blvd, and 300 9th Street.
In 1925 the Jackson and Requa team would design the home at 1244 Alameda Boulevard working with the builder B.D. Larsen. This "English style cottage" was a three-story home constructed of hollow tile and reinforced concrete. The exterior and interior details reflect the style and materials used in English homes in the 1800s. The front door design and hardware were custom-made to match their British counterparts.
The home was designated as a Historic Resource in 2005 as an example of the English Tudor architectural style.
In the mid-1930's Requa decided to retire from the firm and so a new partnership developed between Jackson and his associate Sam Hamill (Jackson & Hamill) from 1936-1938. This partnership yielded the Del Mar Fairgrounds and Racetrack in 1938.
Jackson would retire from his architectural pursuits in 1940. He would reside in Coronado at 839 Adella Avenue until his death in November 1948.
Architect biographies compiled through the use of:
Coronado Historic Resource Commission Agendas &Minutes
City of Coronado's Searchable Register of Designated Historic Resources
Coronado Designated Historic Resources Map
Biographies of Established Masters - City of San Diego 2011
California Digital Newspaper Collection
City of San Diego Historical Resources Board minutes
San Diego History Center website
Modern San Diego website
Legacy 106 website
Friends of San Diego Architecture website
California Historical Resources Inventory Database, City of San Diego
The AIA Historical Directory of American Architects
Save Our Heritage Organization
Internet Archive