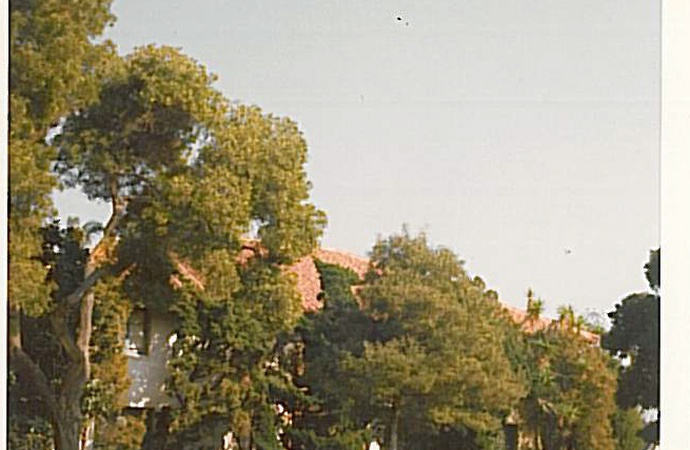 compiled by Cornelius O'Leary, CHA Research Volunteer
Richard S. Requa was noted for his several historically significant works in Coronado as detailed in his bio posted earlier in the virtual museum. Requa also had a relationship with the architect Frank Mead which would be recognized by the city.
Frank Mead was born in 1865 and received his training in architecture on the east coast. After briefly working as an architect in Philadelphia, he was commissioned by a periodical in 1900 to photograph the Bedouin villages of the Sahara desert, and spent the next several years traveling extensively throughout the Mediterranean. He took a particular interest in the honest, simple expression of the region's architecture, and thereafter emphasized the need for buildings to reflect their natural surroundings.
Mead arrived in San Diego in 1903. He initially worked at the architectural firm of William Hebbard and Irving Gill. He established a partnership with Gill after the firm dissolved in 1907, and together they designed several notable projects throughout the area. The partnership ended just seven months later, however, when Mead left San Diego to travel throughout the American Southwest. In addition to studying the region's indigenous architecture, he also became a noted Native American advocate and activist.
In 1912, Mead returned to San Diego, and established a partnership with a young and ambitious Richard Requa later that year. Sharing a mutual passion for indigenous and exotic design, the two architects developed the ubiquitous "Southern California Style" of architecture, which drew upon both Spanish and Mediterranean influences and was uniquely suited to the Southwestern climate. Over the following years, Mead and Requa designed numerous residences, as well as several public and commercial structures, until the two men parted ways in 1920.
In 1915 Requa and Mead teamed on the home at 1015 Alameda Boulevard. The home was designated as a historical resource in 2012 as an example of the Spanish Eclectic style. In addition to Requa and Mead the city recognized the builder, S. D. Chapin and the designer of the front entry, Irving Gill.
Requa and Mead would also team on several significant works in the city of San Diego. Mead would go on after the team dissolved and would eventually be designated as a San Diego Master Architect. In recent years four of his projects have added to the San Diego register of designated historical resources.
Sadly, Mead died in an automobile accident in 1940.
Architect biographies compiled through the use of:
Coronado Historic Resource Commission Agendas &Minutes
City of Coronado's Searchable Register of Designated Historic Resources
Coronado Designated Historic Resources Map
Biographies of Established Masters - City of San Diego 2011
California Digital Newspaper Collection
City of San Diego Historical Resources Board minutes
San Diego History Center website
Modern San Diego website
Legacy 106 website
Friends of San Diego Architecture website
California Historical Resources Inventory Database, City of San Diego
The AIA Historical Directory of American Architects
Save Our Heritage Organization
Internet Archive