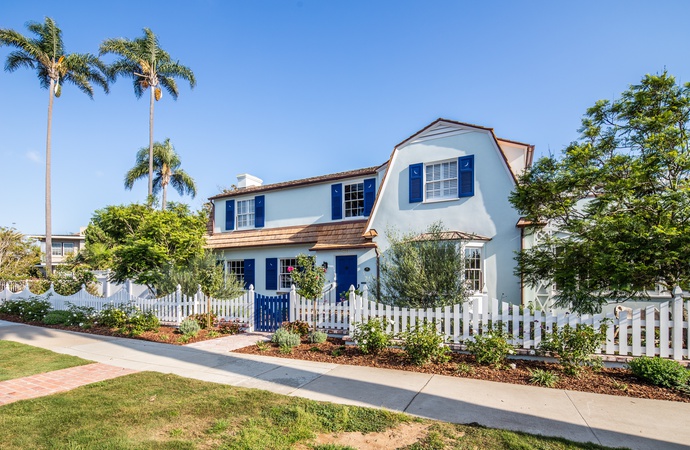 By Mary Farley, CHA Volunteer & GEM Committee Chair, and Jamie Jamison, CHA Board Member & GEM Committee Member
Kathleen Stengel, who grew up taking the ferry over to Coronado's Strand Beach, always remembered the peace, wide open space, and connection to nature with fondness. After settling her mother's estate and realizing they no longer had a home base in San Diego, Kathleen began a search for one. Always attracted to historic homes, especially ones in need of love, the Stengles settled on a historic cottage at 910 F Avenue.
Having admired Lorton Mitchell's work in Coronado, the Stengels engaged him as builder and Dorothy Howard as the architect to design and rebuild the back house at 910 F Avenue in the style of the historic front cottage. Kathleen and Jim were still based in Cincinnati, coming to Coronado for sun infusions as much as possible while beginning to consider retirement and a forever home. Julie Goodwin, their realtor, showed them 532 Marina and Kathleen fell in love. However, the first offering did not work out. "Two years later Julie alerted me that Marina was in escrow and I was surprised how worried I was that the new owners wouldn't take care of home, worse yet tear it down, as it was not designated historic. I felt like I had to save this house". As fate would have it, escrow fell through and Jim made an offer that was accepted unbeknownst to Kathleen. He wrapped up a photo of the house and gave it to his wife for Christmas.
This home is now a GEM Nominee. A Dutch Colonial Revival home, built in 1929 by A.M. Southard, Builder, and Edgar V. Ullrich, Architect, the home was designated a Historic Resource in 2018 and received Mills Act recognition on December 24, 2019. The most recent renovation was done by TONTZ Construction with Kevin Rugee as Architect.
The home was originally built for Charles F. De Long and his family. De Long was the nephew of Philadelphia millionaire Frank E. De Long, who invented the hook and eye fastener for clothing. Frank himself, later moved to Coronado after several visits with his family living at 532 Marina. The De Long family only resided at the property for a short five years, moving after the passing of Mrs. De Long in 1933. Another resident, a tenant, was Commander Robert H. Caldwell, Jr. Caldwell received the Navy Cross while he and his young family lived in the home. He was recognized "For extraordinary heroism in action as Commanding Officer of a submarine on war patrol."
One of the most notable residents of the home was Nick Reynolds of The Kingston Trio, who lived there as a child. Captain Stewart S. Reynolds, USN, and Mrs. Reynolds settled their family into the house in 1933. The Navy family occupied what came to be known as "the Reynolds House" on-and-off for six decades. They were active in the community in a number of ways; everything from hosting high ranking military officials to participating in local tennis tournaments. Nick spent several of his childhood years in the home and received his early musical education there.
"We chose Kevin Rugee and Mike Tontz, who had always been a big fan of Lorton Mitchell", to help us bring Marina 532 back to life, Kathleen explained. They began with all the doors and windows removing all the glass to send up to LA to be dipped in acid to remove the old paint. Once restored the panes were put back in place. What had to be replaced was replaced with all period appropriate detailing, including interior door fixtures and hardware. The original wood shingles were a darker brown cedar shingle in need of replacing, and eastern cedar which greys like driftwood versus the dark brown cedar was the perfect choice.
Amazingly the footprint of the home is the same as are the gorgeous wood floors and 680 original era appropriate window panes. The home itself is joyful, such as the blue living room with red accent furniture, pillows and curtains, many of which Kathleen herself sewed. The grounds deserve more than a mention as an extension of the interior of the home which itself feels like a colorful secret garden.

The Stengels have brought 532 Marina Avenue back to a new life that harkens to the Reynolds family era of the home and an approach to life as a celebration. An overall sense of open armed welcoming as you walk through the home, the embodiment of the joy that living by the sea brings, is what the Stengel family has come home to after "Going the Extra Mile".