619.435.7242
1100 Orange Avenue, Coronado CA 92118
Collection Use and Reproduction Fees
The Coronado Historical Association retains all rights to reproduction for photographs and works from the collection as the institution protecting said collections in the public trust to the fullest extent of the law. All reproductions must be credited as follows: Courtesy of the Coronado Historical Association Collection in a caption or credit. Permission is granted for one-time, non-exclusive use only.
All reproduction fees directly benefit the care of the Association's collection. Use Fees are per image, per medium. Association members receive a 10% discount. For inter-historical association/ museum use, please contact the Association's Curator of Collections. The Association may require that once completed, one copy of the product containing the reproduction be furnished at no charge for all non-personal uses. All non-personal reproduction must be approved by the Board of Directors and fees are subject to the Association's discretion.
Access/Use Fees
Personal - $5 per image
No public or commercial use, for personal research or personal display in the home. Does not include any digital formats or any rights to use images online, including but not limited to, social media, websites.
Non Personal Use - Any use that will be outside of the personal sphere.
Commercial

Non-Profit/Personal

Historic Property Reports - Use for the City of Coronado's Historic Preservation Program and Historic Resource Commission review.

$5
N/A

Publication - Use in books, periodicals, and other published works.

Circulation / Print run less than 10,000

Circulation / Print run over 10,000

Cover / Book Jacket

$150

$300

$500

$75

$150

$250

Non-Editorial - Unbound materials such as postcards, posters, calendars, brochures, company reports, or for murals or other artwork.

Print run less than 5,000

Print run 5,000 or more

$300

$500

$150

$250

Electronic / Film - Includes editorial use in film, television, video, and CD. Does not include online use.

$500

$250

Filming - At the museum, one hour minimum.

$200/hour

$100/hour

Public Display - Use for large scale reproductions or displays for offices, businesses, or events.

$200

$100

Presentations / Powerpoints - Use in educational PowerPoints, presentations, lectures. May not be used online.

$20

$10
Production Fees
Photocopies:
Black and White: 25 cents per page
Color: 50 cents per page
In-House Scanning Fee: $10 Staff Fee
Outside Scanning Fee: Market Price + $10 Staff Fee
Professional Reproduction Prints: Printed by a professional custom photographic digital imaging lab. Shipped directly to you with rates calculated per order. Or free pick up from the museum. If you are interested in a size that is not listed, please contact the Registrar at (619) 435-7242.
| | |
| --- | --- |
| 4x6 | $10 |
| 5x7 | $10 |
| 8x10 | $15 |
| 11x14 | $20 |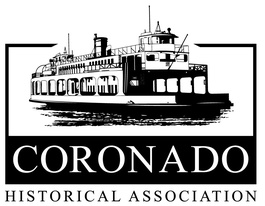 Become a member
Join us and help preserve and share Coronado's unique and wonderful history with intriguing exhibits and innovative programs for all ages.
MEMBERSHIP BENEFITS INCLUDE:
Two complimentary tickets to our Historic Walking Tour of Coronado
Invites to members-only events
...and much more!
Membership information