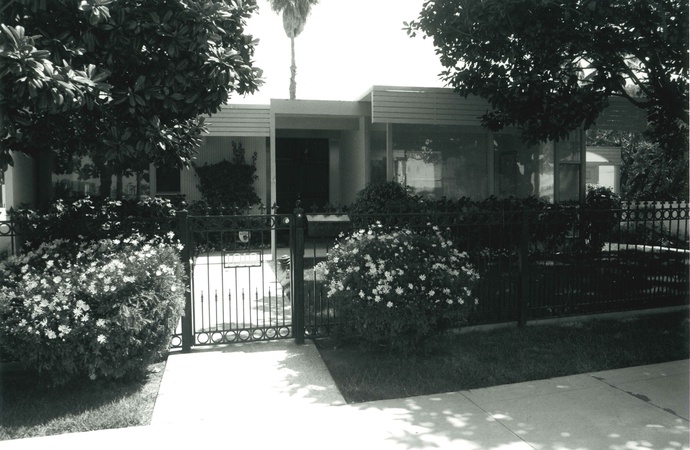 compiled by Connie O'Leary, CHA Volunteer
Homer Delawie was an award-winning modernist architect who primarily worked in San Diego from the late 1950s to the 1990s. He was born and raised in Santa Barbara, California. He attended the fledgling school of architecture at California Polytechnic State University in San Luis Obispo. He graduated in 1951 and became the school's first licensed architect.
His projects were renowned for their simplicity, and he was one of the key designers responsible for the modern architecture movement that defined post-World War II southern California. His projects incorporated large areas of glass to blur the boundaries between the built and natural environments,
He designed numerous public, commercial, and residential projects in the San Diego area, including the children's fountain and plaza at Balboa Park, the M. Larry Lawrence Jewish Community Center, the Scripps Miramar Ranch High School, the School of Creative & Performing Arts in South Bay, the San Diego Hospice, and projects for UCSD, the San Diego Zoo, SeaWorld, San Diego State University, and Qualcomm.
Delawie also had a significant impact on Coronado. His only known residential work in the city was at 1010 Glorietta Boulevard. This home was constructed in 1962 and designated as a historic resource in 2014. The property is an example of the Mid-Century Modern Post and Beam style. Delawie was also instrumental in the design of Coronado Library expansion in 1974 which has been identified by his friends and family as one of his favorite projects.
He was also active in historic preservation through involvement with the San Diego Historical Society and the City of San Diego Historical Resources Board. He received lifetime achievement awards from the California Council of the American Institute of Architects in 1997. In 2003, Save Our Heritage Organization presented him with a Lifetime Achievement Award for his work in preserving the works of local Modern architects. He died in 2009 in San Diego.
Architect biographies compiled through the use of:
Coronado Historic Resource Commission Agendas &Minutes
City of Coronado's Searchable Register of Designated Historic Resources
Coronado Designated Historic Resources Map
Biographies of Established Masters - City of San Diego 2011
California Digital Newspaper Collection
City of San Diego Historical Resources Board minutes
San Diego History Center website
Modern San Diego website
Legacy 106 website
Friends of San Diego Architecture website
California Historical Resources Inventory Database, City of San Diego
The AIA Historical Directory of American Architects
Save Our Heritage Organization
Internet Archive