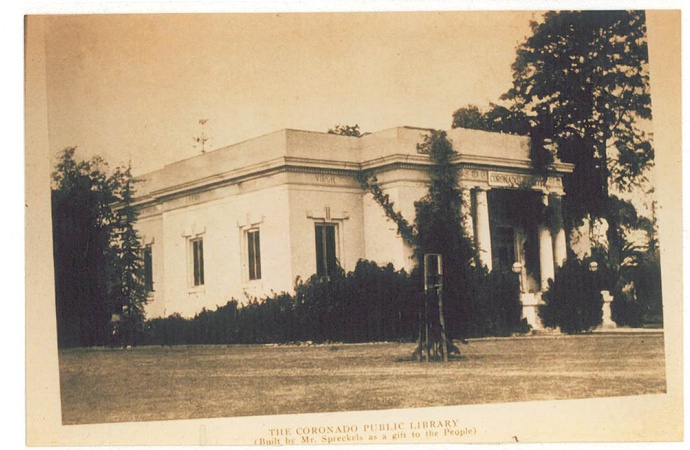 By Paloma Ronis von Helms, CHA Intern
The Coronado Library serves as an important building for the community of Coronado, hosting many events and maintaining a large database for local research. It has been a fixture in the Community for 130 years.
The Coronado Library and Free Reading Room Association founded the library in 1890. In the early 1890s, members would donate reading materials that would be available to be read only within the library. In 1895, the library was moved to the Hotel Del Coronado's Spring Room, which was near a town trolley stop. While it was in this location, the library was officially known as the "Coronado Beach Library". It attracted hotel guests who were encouraged to donate fifty cents. In 1896, books and materials within the library became available for home checkouts.
In 1908, John D. Spreckels hired architect Harrison Albright to design and construct a permanent library building. This library was built at a cost of $10,000 in the middle of what was known as West Plaza Park at 640 C Avenue (the library's current address). Spreckels then gifted the building to the city and people of Coronado. The original section of the building still stands and can be seen in the current library, and it is known as the Spreckels Reading Room.
The rest of the library was constructed around Albright's original building, and today it encompasses 40,0000 square feet. A planned renovation was scheduled to take place in the 1930s. Funding deficits caused by the Great Depression canceled the full project, though they were able to add an East and West wing in 1935. There were more additions to the building made in the 1950s and 1960s. The library was remodeled in 1974 and later expanded in 2005. In 2005, the library's basement was removed.
The Friends of the Library is an organization that supports the Coronado Library through various fundraising activities, such as sales from their annual book fairs through the Coronado Flower Show and their used book shop, which can be seen at the back of the library facing Coronado High School.