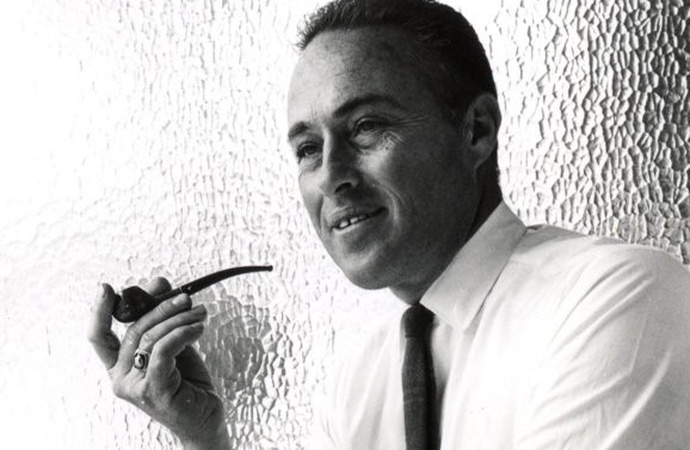 Image above courtesy of Modern San Diego.
Loch Crane by Cornelius O'Leary, CHA Volunteer
Loch Crane was born on December 21, 1922 in Pittsburgh. He arrived in Point Loma, from Wyoming, in 1929.
Loch Crane apprenticed under the legendary Frank Lloyd Wright until the outbreak of WWII, flew B-25 bombers during the War and travelled to Japan following the War before returning to San Diego to apprentice with William Templeton Johnson. Taking advantage of the GI Bill, Crane attended USC between 1954 to 1957, graduated Cum Laude, and obtained his license to practice architecture.
In 1961 he established Loch Crane & Associates, the office would grow and change over the years – quickly moving from small private residences to large-scale buildings for developers, commercial clients, and the military.
Whether he was designing buildings, flying airplanes, or building boats, Loch expressed his unique connection with the natural world – a continued influence from Frank Lloyd. Wright that moved him through life and his professional career.
Understanding the relationship between indoors and outdoors, building something useful, and creating small environments in harmony with the larger environment, were the essence of his search for connection and belonging.
Loch Crane's only work in Coronado was at 819 First Street. The home was built in 1957 and designated as a Historic Resource in 2013. The property and landscape were designated as a special element of the City's architectural history as a rare intact example of the Mid-Century Modern Post and Beam architectural style. Loch Crane collaborated with the builder, Walter Vestal and the landscape architect Frank Koge in the home's construction.
Loch Crane died in 2016 at the age of 94.