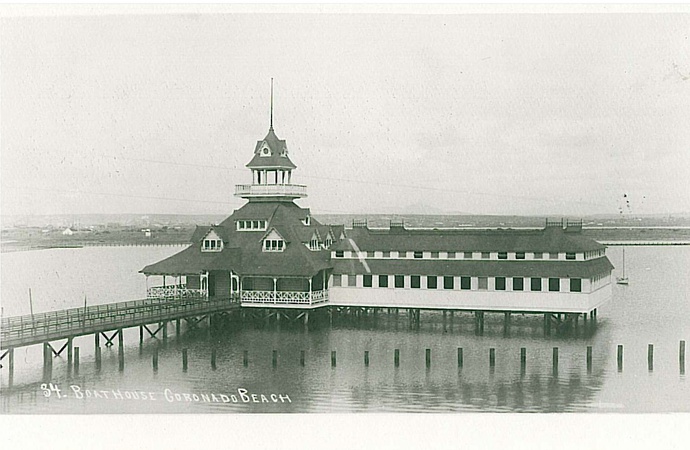 by Maddy Rotkosky, CHA Intern
The Coronado Boathouse was first built in 1887. It was built as a template, a sort of "practice round" for construction workers before they built the Hotel Del later that year. It then became a boathouse, used for guests of the Hotel Del.
Over the years, the Boathouse has hosted many interesting projects. In 1903, it was used as a base for William E. Ritter to do marine research. Students came in 1903 to participate in the lab's sessions. The work done in the boathouse ranged from plankton research to studies of native marine life. After pleasing results in the Boathouse, it was agreed that San Diego was the correct choice for the placement of a marine lab. Active citizens soon thereafter founded the Marine Biological Association of San Diego. Later, Ritter founded the Scripps Institute of Oceanography. In 1912, Coronado used the Boathouse as its first Yaught Club headquarters. They used the boathouse to hold meetings from the 1930s to the 1940s. At some point, it was also used as the headquarters for the San Diego Yacht Club.
Additionally, from 1968 to 2001, the Coronado Boathouse served as the Chart House Restaurant. The road to becoming a restaurant was a long and tiring one. In 1968, Buzzy Bent and Ron Smith started the motion to convert the old Boathouse into a restaurant. At the time, the owner of the Hotel Del, Larry Lawrence, had a long-time lease on the building, though it was owned by the City of Coronado. Eventually, the pair was able to convince Lawrence to work on the Boathouse and turn it into a restaurant - a difficult task, as the Boathouse was dilapidated at this point, 81 years after its construction. The floor was completed, flooded with seawater, and the City Council refused to permit the building until the foundation was repaired. Lawrence grudgingly agreed to manage the structural integrity of the Boathouse and paid to have new pilings constructed for the Boathouse, closer to the shore. The old structure had to be raised and placed onto the new pilings. Buzzy Bent and Ron Smith paid for the interior renovations, turning the Boathouse into a restaurant for the first time. Throughout the project, the two were dedicated to preserving the historical past of the building. Although there were some bumps along the way - such as a fire that blasted a hole through the roof - the Boathouse became a local favorite and has remained that way since.
The boathouse has stood solidly on the water for over 130 years, and will continue to do so in Coronado's future.