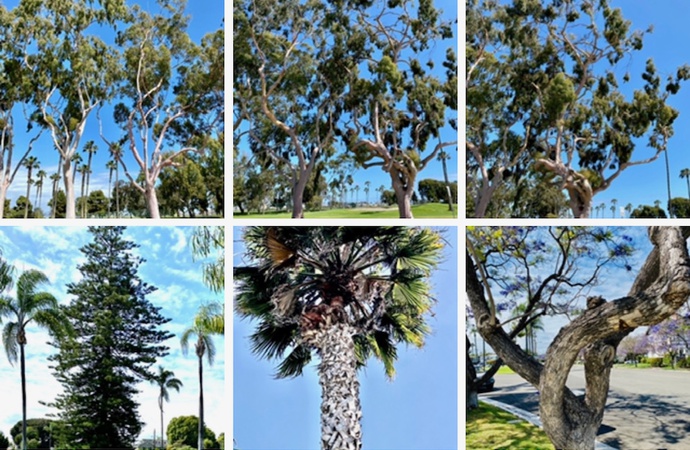 Above: Coronado trees. March & April 2020. Refugio Rochin.
CORONADO TREES AND RELATED HISTORY
by Refugio Rochin, CHA Volunteer
I am retired and walk/bike all over Coronado - mostly for exercise. But also with an interest of Coronado landscapes and trees.
The variety is impressive, colorful, noticeable, and original.
I've lived in many different countries and places. Coronado is unique.
Pictorially, a single block can have over 100 different trees and, my guess, varieties from all over the world.
My favorite location is the Coronado Municipal Golf Course. Also along Glorietta and Margarita Blvd. and Alameda Blvd.
But before the trees, what was native growth in Coronado?
Coronado was a place to fish and hunt quails and long-eared Jack Rabbits. It was claimed by Native Kumeyaay who believe that they have lived in San Diego for 12,000 years. It was a flat sandbar with shrubs and Pacific Coast low-level plants.
Parts of the Coronado Strand still have that same terrain and look - now, in part, designated a State Park, about halfway between the Village of Coronado and the City of Imperial Beach.
Who planted and tendered trees in Coronado:
The Kumeyaay hunting and fishing lands were taken by the Spanish declaration (1602-1821) and by the Mexican government (1821-1848). For almost 200 years the peninsula remained bare. After Mexico gained its independence from Spain in 1821, land grants were issued for various sections of California, thus creating the grand rancheros and haciendas of this period.
On May 15, 1846, a land grant was issued to Don Pedro Carrillo by Governor Pio Pico for "the island or Peninsula in the Port of San Diego." Carrillo's ownership of the land was brief as he sold the property just five months later to the American captain of a trading ship, Bezer Simmons, for $1000.00.
The peninsula changed hands several times over the next 39 years until it was purchased by Elisha S. Babcock, Jr., Hampton L. Story, and Jacob Gruendike, for $110,000.00 on November 19, 1885.
Babcock & Story are credited for changing the landscape and look of Coronado.
Trees in Coronado started to be imported, grown, and landscaped in Coronado from the 1880s. All planned and historically managed and controlled.
For a list of Heritage Trees designated in Coronado visit this link: